Fortune favors the bold. You don't win a Super Bowl by copying league trends or punting on fourth-and-1. You don't keep a wildly talented quarterback on the bench after one of the best performances of the season because you're afraid of the criticism that might follow.
Instant Debate: Kaepernick or Smith?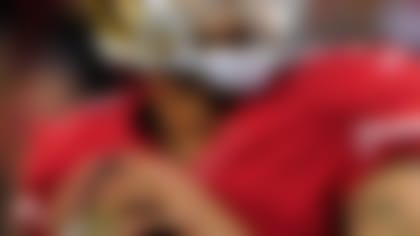 Smith is a perfectly solid, improving door No. 1. He has improved in all facets of his game since Harbaugh took over, and did it in a way that no one saw coming. Statistically, Smith could be an NFL MVP candidate with his high completion percentage and yards-per-attempt average. Harbaugh has done such a good job with Smith that people actually will be outraged at this decision. (It wasn't long ago that 49ers fans were chanting for David Carr to replace Smith.)
Harbaugh knows Smith isn't hard to prepare for. Smith doesn't have a huge arm. We know his ceiling.
Kaepernick is a wildly athletic quarterback with clearly improving accuracy. We can't just ignore how well he played Monday night. It was only one start, but it was a one hell of a start. It was the type of start Smith might not be capable of. We don't fault Harbaugh for wanting to see more.
The 49ers' coaching staff has proven to be excellent at creatively maximizing their players' strengths. Their entire schematic and organizational approach to the NFL is unique. They coached around Smith last season. They built him up. Their focus then was on defense and the running game, but they want to evolve. Smith was making strides, but the 49ers traded up in the second round for Kaepernick because his ceiling is higher.