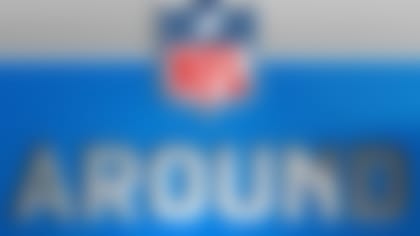 The Around The League team hits all the NFL's hottest topics in its award-winning podcast. Join the conversation. Listen
His hire caps an epic 25-day coaching search for the Browns that saw the club's top-heavy front office massacred by the public.
Team CEO Joe Banner, aware of this, did his best to open the news conference on a light note, playing off accusations that he's part of a "Three Stooges" operation alongside general manager Michael Lombardi and owner Jimmy Haslam.
"Mike and I are Mo and Larry; we set out to find Curly," Banner said.
Here's what else we learned:
Pettine looks like a prizefighter. Far from milquetoast, the coach acknowledged he couldn't wait to rip off his jacket and orange tie and get down to business. "This team is going to be built on toughness," said Pettine. "To play in the AFC North, you have to be willing to bloody your nose."
Pettine dismissed notions that he wasn't the team's first choice and said he felt no uneasiness about taking a job that saw Rob Chudzinski fired after just one season. "It's not unnerving," he said, pointing to an interview process that revealed a "leadership group committed to winning." Pettine came across as a grinder, telling the room: "Don't look for a better job; do a better job."
Bills fans might wonder about that last quote, but Pettine took time to thank Buffalo and coach Doug Marrone. He also paused to acknowledge his dad, Mike Pettine Sr., a renowned high school coach for 33 seasons with Pennsylvania's Central Bucks High School West. "The biggest reason that I'm here is because of my dad," he said. "All my roots, all my foundations go back to my dad."
Pettine wouldn't confirm if he owns final say over the roster (our guess: no way) and he called his coaching staff a work in progress. "That's something that will be discussed, but I can tell you that there is a high likelihood that some coaches will be retained."
He's not the first to say this, but Pettine insisted that Cleveland is ripe for a "physical and mental culture change." When Chud was fired, the front office talked about a lack of accountability from its players. Pettine promised that "standards will be high and players will be held accountable." Asked for specifics, Pettine said: "They will be graded and graded hard."
Browns fans are exhausted with seeing the offensive philosophy change annually while the defense flip-flops between three- and four-man fronts with every new coach. Pettine is known for a multiple, attacking defense and clarified that he isn't going to force players into a scheme. "I've always been of the mindset that you fit your system to your players."
Pettine's daughter, Megan, made waves earlier this month after she tweeted that her dad was "going back for a second (interview)! It's the Browns ... But hey, still pretty cool!" Asked about "Megan The Newsbreaker," Pettine assured that "we had a very long father-daughter chat after that one. She learned a very valuable lesson in the power of social media." Pettine also said she "sent me a text this morning that I think would have made most fathers cry. She learned a lesson that was very valuable."