It's official. The Cincinnati Bengals are headed back to HBO to be featured on this season of "Hard Knocks."
Debate: Top 'Hard Knocks' subplots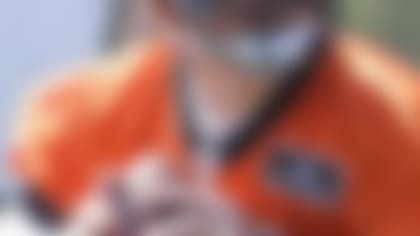 It's official: Andy Dalton and the Bengals will be featured on "Hard Knocks." What are Cincinnati's most enticing storylines? **More ...**
HBO and NFL Films announced the move on Monday after word leaked out about the Bengals' involvement late Friday night. The first episode is set to premiere Tuesday, Aug. 6. The Bengals also were featured on the show in 2009.
"The feedback we got from our experience with 'Hard Knocks' in 2009 was outstanding," Bengals coach Marvin Lewis said in a statement. "Our fans enjoyed it tremendously, and we're happy to try and provide that same experience again. Our fans love the NFL and they enjoy seeing things they don't normally get to see. We have some outstanding men, both as players and as people."
The Bengals' involvement very likely comes back to ownership. In most NFL cities, the "football people" are hesitant to show their lives on camera. In Cincinnati, owner Mike Brown's family members are the "football people." The Bengals also have a head coach willing to embrace the experience.
For over a decade, HBO's "Hard Knocks" has found drama in the drudgery of NFL training camp. Gregg Rosenthal revisits past classics via NFL Films. **More ...**
"Some people say, 'Well, you won the division the last time you did this; is that a reason for doing it again?'" Lewis said. "I really don't think that matters or figures much into the decision. ... One thing I did see as a positive last time was exposing our players to another group of people who are working hard every day the way we need to work. The diligence and the effort of the people on-site is very impressive."
We got to know Lewis a lot better during the last "Hard Knocks" season, especially during a blistering speech about being a professional after a preseason loss. We can't wait to see Lewis, defensive coordinator Mike Zimmer and a raft of talented young players behind the scenes this year.