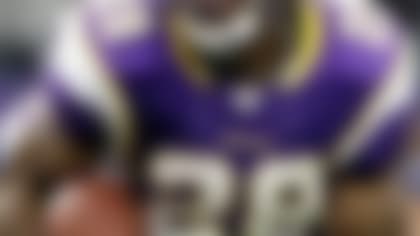 Chris Johnson and Adrian 
Peterson both have something to prove. Which star will enjoy a better year? Let's debate! More ...
Johnson looked nothing like the man who rushed for 2,006 yards in 2009 and another 1,364 in 2010. He looked an awful lot like the back who plodded out of the gate in 2011, which is troubling considering the six-year, $55.26 million contract Tennessee furnished him with last summer.
Munchak told the newspaper he plans to double Johnson's workload in Friday night's preseason road game against the Tampa Bay Buccaneers. That should be enough of an opportunity to quiet his doubters.
We've heard a lot about Johnson's improved focus this offseason, but these August matchups don't appear to be high on his list. "Lol preseason," he tweeted after hearing it from fans following the eight-yard explosion.
We doubt the Titans are LOLing behind the scenes, and it's not too much to ask of Johnson -- with $30 million guaranteed -- to find some meaning in these trial affairs.