If you guarded Michael Jordan in practice every day, it would make you a better player. Your ego would be bruised, and you'd probably dread scrimmages on some level, but the end result of those beatings ultimately would help your career.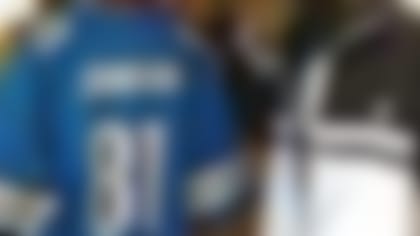 Calvin Johnson explains his thoughts at seeing Snoop pose with his jersey. Get more training camp insight from players as they prepare for the season. More ...
Cornerback Chris Houston deals with a similar situation every day at Detroit Lions training camp. It's his job to cover all-world wide receiver Calvin Johnson. It's unforgiving work, but Houston welcomes the challenge ... usually.
"God should have given me four more inches," the 5-foot-11 Houston said after one particularly frustrating battle, via the Detroit Free Press. "Do you know what it's like to hold Calvin Johnson every day? It's hell."
"He's the best wide receiver in the game," Houston said of his 6-foot-5 teammate. "He's giving you hell day in and day out, and it's training camp. We have to face guys like Brandon Marshall, Larry Fitzgerald, so he's preparing us for that. That's what I go to practice thinking about."
Keep in mind Houston is no slouch. He's coming off a season in which he had five interceptions despite regularly being matched up against the opposition's best receiver. Detroit has a suspect secondary, and safety Louis Delmas has no timetable following knee surgery. The Lions need Houston to play at a high level.