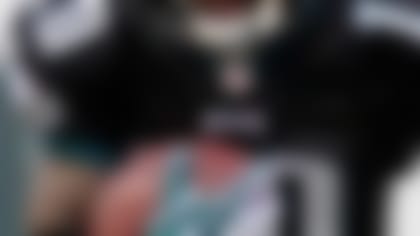 Stay up-to-date with all the latest news and rumors behind DeSean Jackson's potential destinations with our DJax tracker. More...
Plenty of NFL players are keeping tabs on their team's reported interest in the dynamic receiver.
"Bring him in. I think he would look good in the Silver and Black," Woodson told KGMZ-FM last week, per ESPN.com. "Of course I know the business side of it, but I've watched this guy and what he is, is a dynamic football player."
NFL Media Insider Ian Rapoport reported Saturday the Raiders and Jackson have mutual interest in uniting. The receiver put out the word to Oakland before his release that he had interest in returning to the Bay Area, where he attended college at Cal, Rapoport added.
Woodson knows that despite the off-field concerns, Jackson is the type of player the late Al Davis would have signed without hesitation.
"There is no question in my mind that this is the type of player that Al would bring in," Woodson said. "You hear about the off-field stuff but I don't think Al would concern himself with that too much. I think Al would do his homework. But I think he would take a serious hard look, and if there was an opportunity I think he would bring that guy in.
"DeSean can stretch the field, and we know how much Al loved having guys that can stretch the field. So I don't think there is any question he would bring him in."