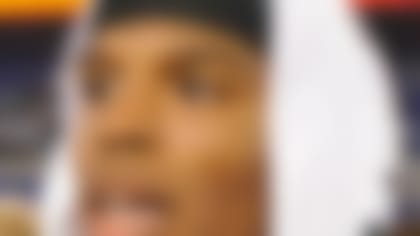 Carolina wants to preserve Cam Newton, but does a traditional offense diminish Superman's powers? Judy Battista examines. More ...
The Panthers, in their 18-year history, never has scored two defensive touchdowns in a regular-season game, but they rifled off three against the Ravens in this odd preseason affair. Cornerbacks Drayton Florence and D.J. Moore returned picks for scores, and Thomas Davis rolled into the end zone on a fumble recovery. Ted Ginn's 74-yard punt return started it all off in the first quarter.
Despite impressive stats, Cam Newton's just 13-19 as a starter. Bucky Brooks explains how Carolina can increase efficiency. More ...
"When you score (four) touchdowns on defense and special teams, the offense doesn't get back out there. The opportunities are limited," Panthers coach Ron Rivera said. "Now having said that, (3.5) yards on average (per) offensive play is not good enough. Not in this league, if we expect to win football games. We cannot accept that."
Newton gives the Panthers as potent a talent on offense as Kuechly is on defense, but the quarterback hasn't played well in the preseason. Maybe Shula planned to dish out heaping bowls of vanilla ice cream in August, but he's never been known for innovation. Not unlike Brian Schottenheimer with the St. Louis Rams, there's reason to wonder if Shula doesn't know what to do with the ingredients he's been given.