Rapoport: Week 6 game rankings What's the best game on the Week 6 slate? The worst? Ian Rapoport provides a pecking order in his Rap Sheet Rankings. More ...
"He rung my bell pretty good, he got me, he caught me around the chin, that was a good hit," Johnson told WXYT-FM in Detroit. "It's a part of football, you get concussed, you gotta keep on playing. You can't get afraid to go across the middle any more than you were at the beginning."
Johnson said he underwent a concussion test on the sideline after that grisly hit: "They come and do the little test with the finger ... ask you what day, what game it is, stuff like that."
Johnson must have passed that test, but he also appears to admit to playing through a concussion. That won't please our friends at 345 Park Avenue, but this can't be unusual. The most ghastly head injuries are detected and players are pulled from the field, but there's nothing the league can do about head injuries that fly under the radar. For decades, players battled through symptoms. They didn't leave the field.
The focus on concussions makes sense, of course, but not everyone's playing along.
UPDATE: Johnson later admitted to reporters Thursday that he believed he had suffered a concussion.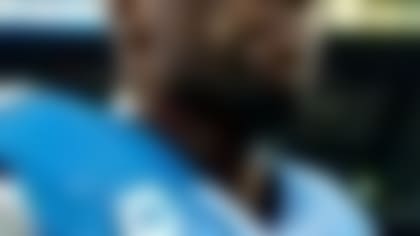 "Our evaluation was (that Johnson) was not concussed," Schwartz said. "He was thoroughly checked. We were very strong in our evaluation. ... We're very strong in our evaluation, and as an organization, we have some credibility when it comes to concussions. So just leave it there."