Instant Debate: The pressure is on ...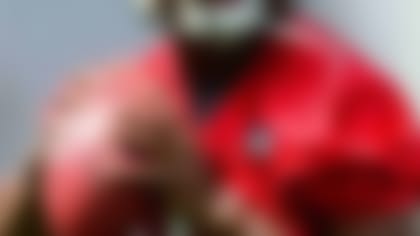 Earlier Monday, we told you about a report by PetwerReport.com's Mark Cook, who wrote that the Tampa Bay Buccaneers offensive tackle has failed to meet most of the weight clauses in his most recent contract. Cook wrote that Penn is known to have an "occasional lazy streak" and his weight fluctuation "drives management crazy."
Penn got all sorts of fired up after reading a ProFootballTalk.com write-up of Cook's report. The lineman's frustration came through in a series of salty tweets directed at PFT, in which he explained he's "330 right now in the best shape I been in a long time stop reporting bull---- I made all my weigh in last yr n this yr."
He went on: "I still shut down the best DEs in the game n ball out every Sunday I gave up 4 sacks all yr last season get yo s--- right."
Once Penn realized Pewter Report had done the initial reporting, he turned his ire to that site's Twitter handle.
"Keep reporting bulls--- on me n see the next time I do a interview wit u yo s--- is lies get the facts 1st Cook b4 u say s---."
We had some internal debate in the NFL Media news room about whether Penn's Memorial Day weekend was "messed up" by this report or the fact he gave up beer and barbecue for work at the gym.
Either way, we're not getting on his bad side.