"I was surprised," Weeden said about taking a hit in the Browns' preseason victory over the Green Bay Packers. "I really felt fine after a play or two, I just lost my breath. I tried to call the next play in the huddle and I couldn't even spit out a word. My offensive line was laughing at me. I actually called the wrong direction."
Debate: Most rookie interceptions?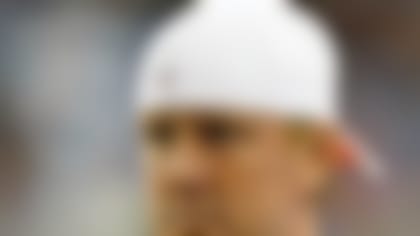 Which rookie will throw the most interceptions: Andrew
Luck, Robert Griffin III, Ryan
"That's just part of playing the position," Weeden said. "You don't want to put yourself in that position, but every once in a while, you're going to have to step into a throw like that."
Weeden's performance was much better than his 3-of-9 passing with a fumble and interception against the Detroit Lions the previous week.
"I got 40 plays in and got into some rhythm," Weeden said of the Packers game. "My second quarter was better than my first. Everybody was criticizing me for 15 plays (the previous week). I read my Twitter. Some of it is comical."
"Regardless how old I am (28 years old), it's still a big jump (from college)," he said. "We're still trying to get better at the fundamentals, the basics."
The Associated Press contributed to this report.