Brett Favre, speaking to Joe Buscaglia of WGR-AM in Buffalo on Thursday to promote Jim Kelly's "Hunter's Hope" charity auction, took part of the blame for how his end with the Packers transpired.
Debate: Most enticing QB battle?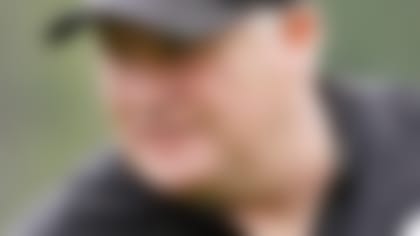 Which team has the most intriguing quarterback competition: the tabloid-friendly Jets or Chip Kelly's Eagles? **More ...**
"It's over and done with. I was at fault," Favre said, per the Milwaukee Journal Sentinel. "I feel that both sides had a part in it. If you could go back, would I or them have done things differently? I'm sure both sides would. But you can't."
Favre has discussed burying the hatchet in the past, but he hasn't been as forthright in taking ownership of how he put the Packersin a tough spot after his initial retirement.
When asked about having his number retired by the Packers, Favre was optimistic it would happen soon and credited team president Mark Murphy for patching the discord.
"I'm honored just by the thought," Favre said. "Obviously there was, if you want to call it, 'bad blood' or whatever, I just think that people started picking sides. And really I'm over that and have been over it. Mark Murphy and I have talked on numerous occasions. I never expected them to do anything. I'm not one to sit here and say I think they need to do this and do that."
Current Packers quarterback Aaron Rodgers put emphasis on a Favre-Packers reunion late last month, saying it was about time for the "healing process" to begin. The frigid relationship between Favre and Rodgers has been questioned in the past, but Favre reiterated that their appearance together at the 2013 NFL Honors wasn't an act.
"Aaron has said some very nice things," Favre said. "He and I have a good relationship. I had a chance to present an award with him at the Super Bowl, and that was for real. It wasn't for show. And so I think everything will be fine."
Favre said he had no idea when a reunion would happen.
"As time goes, it heals a lot of things," he said. "So the things that transpired that led to us 'breaking up' if you will, to me, are over and done with. When will (the jersey retirement) happen? I don't think either side is trying to push the issue. ... I think both sides are genuine. I know they are. And that's the way it has to come across because that's the way it should be. We don't want to go out there waving to the crowd with our backs to each other. And I don't think that's going to happen."
Of course, in true Favrian fashion, he did take some credit for setting an example for how not to handle the exit of a future Hall of Fame quarterback.
"I don't know for certain, but I think the situation with Peyton (Manning) and the (Indianapolis) Colts almost looked like our situation, but then maybe they thought twice about it and maybe they learned from our situation and they handled it correctly," Favre said.