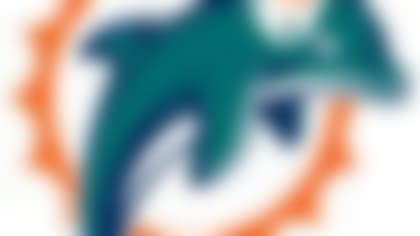 It's not yet clear if Ireland envisions Gibson as a complementary piece or as a fall-back option in case he's beaten to the punch on Wallace. With Davone Bess entrenched as the slot receiver, we suspect it's the latter.
League sources told the Post-Dispatch that Gibson will not return to St. Louis in 2013 because the Rams only wanted him back "in a role and for money commensurate to a No. 3 or No. 4 wideout." Ireland's acumen on offensive skill-position players has left a lot to be desired in Miami. Gibson is a fine No. 3 receiver on a contender and a passable No. 2 on a team going nowhere. What he's not, however, is a threat to beat defenses deep in the vein of Wallace. It's hard to see where Gibson would fit in the Dolphins' plans.
Update: Citing a person with knowledge of the Dolphins' discussions with wide receivers, USA Today confirms that Gibson is indeed seen as a "fallback option" in case the team swings and misses on Wallace. Gibson is also expected to draw interest from the New England Patriots, New York Jets, and Buffalo Bills, completing the AFC East sweep.