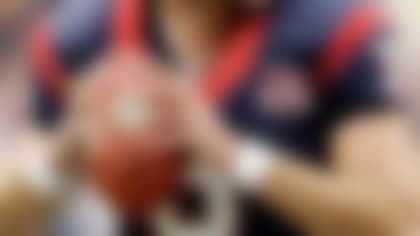 Our analysts provide Super Bowl picks with four Sundays in the books. Matt 
Schaub's Texans get love on the AFC side. More ...
"You pull him out, put somebody else in, let him settle down and maybe he goes back in," Crennel said. "As a coach, you get a feeling about whether he's making good decisions, poor decisions ... those kind of things all kind of play into it."
Cassel has 10 turnovers on the season, so he has made a lot of poor decisions. Cassel is not the type of playmaker, like Philadelphia Eagles quarterback Michael Vick, who can make up for many mistakes.
"At some point, as a coach, you go through and you see what's happening in the game and how a guy is reacting and how he's responding to what's happening in the game," Crennel said. "If you feel he's inept, constantly making poor decisions, bad choices, then that's when you move on from him and give someone else a chance."
The Chiefs' home crowd chanted for No. 3 quarterback Ricky Stanzi on Sunday. Crennel can only hope that's the low point of the season. We aren't likely to see Stanzi anytime soon, but it sounds like we're another bad Cassel performance away to getting the Brady Quinn experience.