Bill Belichick is known for his evasiveness. On Wednesday, the New England Patriots coach showed a human side during his first news conference since former tight end Aaron Hernandez's June 26 arrest on a murder charge.
Debate: Belichick on Hernandez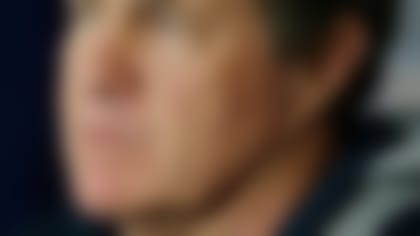 Bill Belichick addressed the Aaron Hernandez situation for the first time. Our analysts share their reactions. More ...
"It's a sad day, it's a really a sad day on so many levels," Belichick said, reading from a thoughtful statement. "Our thoughts and prayers are with the family of the victim, and I extend my sympathy, really, to everyone that's been impacted. A young man lost his life. And his family's suffered a tragic loss, and there's no way to understate that.
"When I was out of the country, I learned about the ongoing criminal investigation that involved one of our players. I and other members were shocked and disappointed in what we had learned. Having someone in your organization that's involved in a murder investigation is a terrible thing. After consultation with ownership, we acted swiftly and decisively (in cutting Hernandez)."
Belichick still sounded a little stunned. There was embarrassment and contrition that anything like this could happen on his watch. Belichick did not answer direct questions about Hernandez at length, citing legal advice to not comment on someone who is involved in an ongoing investigation. But Belichick did take responsibility for his role as the leader of the team.
"As the coach of the team, I'm primarily responsible for the people that we bring into the football operation," Belichick said. "... Overall, I'm proud of the hundreds of players that have come through this program, but I'm personally disappointed and hurt in a situation like this."
Belichick repeatedly was asked about the Patriots' evaluation of Hernandez, and the coach said the team will continue to handle all off-the-field player situations on a case-by-case basis. Belichick also said the Patriots will closely look at how they evaluate players and how they can do a better job at it.
"It certainly goes well beyond being a football issue," he said. "This is real life. I don't know how it could be any more substantial."
This news conference, in many ways, was about trying to address the serious issue before getting on with the 2013 season.
"I've been advised to address the subject once," Belichick said. "It's time for the New England Patriots to move forward."
That's to be expected. But it was welcome to see Belichick understand the gravity of this situation and strike the right tone of contrition.
"We'll learn from this terrible experience," Belichick said. "We'll become a better team from the lessons we learn."