The signs are not encouraging for a speedy resolution for the standoff between the NFL and its referees. The signs haven't been all that encouraging for the replacement officials on the field either.
Instant Debate: Replacement refs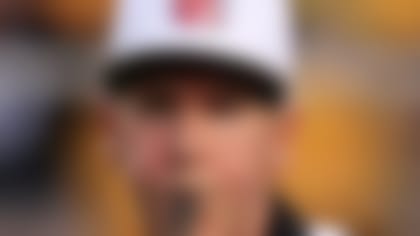 Will replacement officials be a problem in Week 1? Our analysts provide varied viewpoints on this critical topic. More ...
"Final preseason game for two teams," he wrote. "Official calls defensive pass-interference in front of the penalized team's bench. Head coach lambastes the official. Official picks up the flag, tells the coach he's not going to make the call. Coach is stunned."
Oof. One thing we've noticed is that the replacement officials have felt the pressure of the moment in front of big crowds. They've struggled to announce penalties calmly. They have done a lot of more difficult aspects of the job well, and then frozen on some easy rules. That's a sign of nerves showing up.
It's a rare topic that players, coaches, and fans can all agree on. It would be nice to get the real officials back.
"You all see the calls, too. It's new to them. It's new to the replacement refs. This game is so much faster than they've seen. Guys are a lot slicker than what they've seen. We just have to hope and pray that these guys get back at it."