Hasselbeck started and played well last season, but Locker has him beat in the athleticism department and has impressed his teammates with the progress he's made in the decision-making aspect of the position.
Whichever quarterback wins the job would be helped immensely by running back Chris Johnson returning to his Pro Bowl form and wide receiver Kenny Britt overcoming off-field issues and returning to his pre-knee injury form that had him poised for a breakout season in 2011.
Titans safety and aspiring broadcaster Jordan Babineaux told our "NFL AM" crew that he is not worried about Johnson or Britt coming through this season.
"C.J. was here all offseason," Babineaux said of Johnson. "He's been working, he's been grinding. He's been looking good. The biggest is that I know C.J. has been personally taking it upon himself to outperform the way he did last year. That's all we can ask of him. When C.J. gets the ball in his hand, he's the elusive, same type of guy that everyone fears and it's great to see him play."
Debate: QB controversy... to playoffs?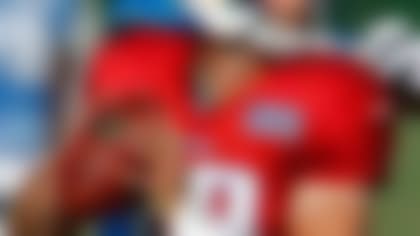 Four teams have notable QB battles taking place right now. Which one has the best shot at the playoffs? Let's debate! **More ...**
Johnson had a rather forgettable preseason debut, gaining eight yards on five carries and letting a pair of screen passes slip through his hands.
Due to multiple operations on his knee over the last ten months, Britt is unlikely to play at all during the Titans' preseason and is likely facing a stiff suspension for yet another arrest (a July DUI was his eighth run-in with law enforcement) in his young career.
Babineaux says that Britt is focused on turning his career around.
"I think Kenny definitely put himself in a bad situation, but we, as his teammates, are here for him 100 percent," Babineaux said. "I'm not sure exactly what the discipline actions are going to be; what his status is going to become the start of the regular season.
"The biggest thing I can say, personally, from watching this guy work is that he's dedicated. He's ready to go back out there and reprove himself and show he can be the same kind of guy that he was before he hurt his knee. He was on a stretch to be a dangerous threat for the regular season and I can't wait to see him back in his original shape and form."