Schein: Round 1 winners, losers "This was our targeted pick," general manager Thomas Dimitroff said. "This is who we focused on all throughout the offseason."
The 6-foot, 190-pound Trufant, who timed at 4.38 seconds in the 40-yard dash during the combine, fills a major need for the Falcons. The team lost three cornerbacks during the offseason as Dunta Robinson was cut in a cost-cutting move, while Brent Grimes and Christopher Owens signed with other teams in free agency.
"He's a guy who just seems to find the football," coach Mike Smith said, who expects the newcomer to compete right away for a starting job.
Trufant follows two older brothers into the league. Marcus has been a starting cornerback for the Seattle Seahawks since being picked in the first round a decade ago, while Isaiah worked his way through two lower-level leagues before getting a chance to play corner with the New York Jets the past two seasons.
"They're here with me watching the draft," Desmond said on a conference call late Thursday. "Now, I'm going to try to make a name, make an impact in the league. I'm ready to come in and work hard from day one."
Dimitroff has become known for his bold moves on draft day, most notably landing Pro Bowl receiver Julio Jones in a blockbuster trade with Cleveland in 2011. The deal with the Rams had been in the works for a few days, as Dimitroff took advantage of his relationship with St. Louis GM Les Snead, who used to work in the Falcons' personnel department.
Norris: Seven-round mock draft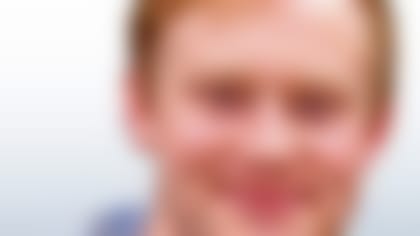 First-round mocks are fun, but they only tell 1/7 of the story. Josh Norris tackles the challenge of predicting all seven rounds. **More ...**
"There were a lot of discussions up and down," Dimitroff said. "Everything worked out really well. We were able to secure a trade with our old friend, Les Snead. We walked away with someone we feel will be a nice addition to our team."
Knowing that Minnesota also was in the market for a cornerback, the Falcons felt they had to move up to make sure they got the player they wanted. As it turned out, the Vikings did take a corner with the 25th choice, Florida State's Xavier Rhodes.
Dimitroff was willing to make a deal as long as he didn't have to give up a second-round pick.
"When we're focused on going after something, we're not afraid to be aggressive with it," Dimitroff said. "We could not take the risk of not having a guy like this on our team. That's why we made the move."
"Desmond has the skill set we're looking for," Smith said. "He can run, he can jump, he can find the football. Plus, we really like his work ethic."
The Falcons interviewed Trufant twice -- once at the combine in Indianapolis, then again on a visit to Atlanta -- and came away impressed. The team believes that having two brothers already in the league gives him a major edge over other rookies.
"It's very important that he has experience in the NFL before he's gotten here," Smith said. "He's been able to live that through his two brothers. They're a very close family. We think he's experienced things that other rookies have not experienced because two older brothers have gone before him in the NFL."
Trufant also looks forward to working with Asante Samuel, the only big-name cornerback remaining on the Atlanta roster after the offseason purge.
"I've been watching him since I was young," Trufant said. "I'm going to try to learn as much as possible from him."
Copyright 2013 by The Associated Press