Happy "Game Of Thrones" Finale Day! Or as those who don't have premium cable call it, Sunday.
The ATL Mailbag is back. As always, thanks for your questions, which can be sent to @NFL_ATL or ATLmailbag@gmail.com. If I didn't respond, you're right to assume it's personal.
"There's nothing left but to make it to the Super Bowl," White replied. "We gotta make it or else changes have to be made. Because this team has maxed out. There's no more, get to the NFC championship and lose, get to the NFC championship and lose and again and again. We can't do that, we got to make it to the big game and find a way to win."
I can't speak for the other guys, but I have my doubts. And yes, I remember how Christian Ponder performed in the Minnesota Vikings' Week 17 win-and-in victory over the Green Bay Packers. He was awesome in that game. But it doesn't erase the fact that Ponder also had seven games in which he posted a 75 passer rating or below, including three sub-42 dumpster fires.
Perhaps he forms great chemistry with wide receiver Greg Jennings. Maybe another year of seasoning is all it takes. But I have a sneaking suspicion the Vikings will be using a high draft pick on a signal-caller in 2014. The Vikings can't afford to be too patient as Adrian Peterson enters his age-28 season.
It obviously depends on the circumstances. Am I trapped on top of the Andes, "Alive" style? Or am I am sitting in the DMV, just a really hungry dude eyeing other humans? If we're talking about a life-and-death situation -- and I'd like to hope we are -- the answer is a soft yes. No friends and family (you're safe, Mom). No old people, either. I really don't want this to happen.
I think they're both done. In the case of T.O., he ran out of time. He's almost 40, and you're just not going to get a job at wide receiver in this league at that age even if you are a physical marvel. As for Johnson, I don't think he gets it. Violating probation, tweeting about hangout sessions with a homeless man named Porkchop. It's all just too much. Why would a team want to deal with that?
Hey, Plaxico Burressstill is working, so we shouldn't close the book entirely. But you've probably seen the last of the "T.O & Ocho" show. All that's left is the utterly depressing VH1 reality show.
Instant Debate: Best play-caller?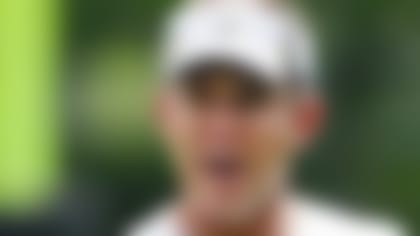 Who is the top play-caller in the NFL today? Our analysts praise New Orleans Saints head coach Sean Payton, among others. **More ...**
All I want to do is watch the NBA Finals without Adam Sandler ruining everything. Alas, that's impossible thanks to the ad campaign for "Grownups 2," which is childbirth painful. Sandler's effort level has been deplorable for a decade and counting. If he were an NFL quarterback, he'd be at the stage of his career where he's telling coaches he studied a blank DVD.
Please don't see this movie. Please. I beg of you.
I think Murray is the X-factor of the Cowboys' season. The passing game can be great, while the defense under Monte Kiffin should be improved with DeMarcus Ware, Sean Lee and Barry Church all healthy and back on the field. If Murray can stay on the field, the Cowboys have all the pieces in place for a playoff run. If he can't, look out. There's not a lot of depth behind him.
Hands down, my least-favorite running storyline of the offseason. It finishes just ahead of the Cowboys' play-calling situation and any business matter involving Jay-Z.
Somebody will be tortured for reasons that are unclear. CGI dragons will be involved. There will be a fair bit of nudity. People will die. Your DVR will fail you. Your cousin will go spoiler on Facebook.