NEW YORK -- I am walking the red carpet at the Maxim party.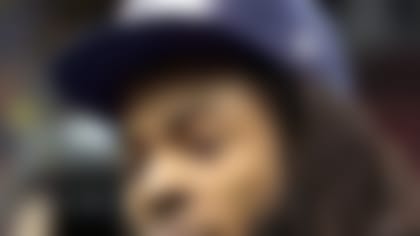 Well, technically, it's a white carpet. And I'm walking this carpet only in the most literal sense. An event organizer leads me past 15 or so understandably disinterested photographers. I'm in as much demand as a punt-team gunner on Media Day.
At the Jay Glazer party, I was surrounded by athletes, agents, front office guys, media folk and women in tight dresses. It was, by and large, an "insider" event. The Maxim party had plenty of women too -- lots and lots and lots of women -- but that's as far as the shared DNA went.
A lot of people paid their way through the doors of the Maxim event, sponsored by Talent Resources Sports and held at a large space on Manhattan's west side. When I arrived shortly after midnight, the place was a madhouse. Scantily clad model-types pose for photos with amped-up dads. An ice luge is getting extensive use. A DJ named Dalton (no, not that one) is blasting EDM for an enthusiastic and boozy audience. There are stupid hats everywhere.
If you don't count the seven guys I initially mistook for Dr. Drew, I spotted no celebrities. Justin Bieber, the slowly disintegrating pop star, reportedly showed up minutes after my departure.
Patron is a major sponsor of the party, which means almost everybody is drinking straight tequila or something close to it. I control my consumption (I'm technically working, after all), but am thankful for the company. I am alone, unable to score a plus-one for one of the week's biggest parties.
That's OK. Everyone is in good spirits and so am I. The Super Bowl is in town and people are enjoying themselves. At a photo station, a bunch of Broncos fans were cracking themselves up by barking "Omaha!" I saw one group of Seahawks fans in authentic jerseys, adorable when juxtaposed with a neighboring table populated by serious men in fedoras. An elderly Asian woman in a wheelchair passed me at one point. I can't bring any other context to that situation, but it felt important to mention here.
After about two hours, I decide to leave. A man can only wander around a Super Bowl party by himself for so long before he starts to become a social experiment. I get my coat, hail a cab and head back to the hotel. It was Bieber's turn to tag in.