As Griffin's body of work expands, it's clear how different the Washington Redskins rookie is not only from Vick -- but from anyone.
"I haven't watched too much film on RG3 yet," Rolle told WFAN-AM, via The Star-Ledger. "I've just seen highlights and this, that and the other. But, of course, they're different. They're two totally different quarterbacks and I think that their game as far as their offensive approach is extremely different. RG3, as you know, he can run the ball. I think he runs the ball a lot more than Michael Vick. I mean, he's a fast guy. He has a very, very strong arm and I think he's an all-around quarterback and he's going to get better with time."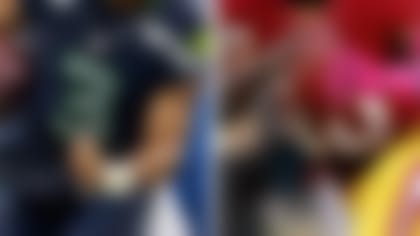 Six games into his career, Griffin leads the league with a 70.2 completion percentage. He's thrown just two interceptions all season, and if his five passing scores are low, he also has five on the ground, where he's even more of a threat than Vick was in days of old. Griffin is also a better drop-back passer than Vick will ever be.
Have Vick and Griffin both used their blazing speed to torch defenses? Yes, but that doesn't make them the same quarterback. They present similar challenges for defenses, but they aren't the same man.