Smith told King that one reason he has handled the situation so well is because a similar situation unfolded when the quarterback played at the University of Utah.
Smith said that in 2003, he lost the quarterback battle to incumbent Brett Elliott, but later got the job after Elliott broke his wrist during the second game of the season. After getting the gig, Smith never relented.
Elliott, now a graduate assistant at Mississippi State, transferred at the end of that season. He told King that staying positive after losing your job is more difficult than any quarterback concedes.
Super Debate: Harbowl advantage?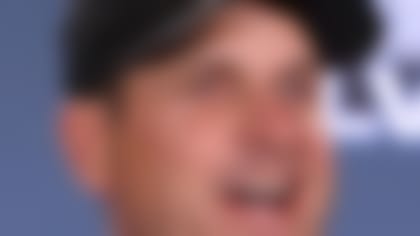 Which Harbaugh has the coaching edge in Super Bowl XLVII: Jim or John? Our analysts provide their thoughts. More ...
"You watch practice and the games, and you see another guy out there, and you think, 'That's my center. This is my team. This is my offense,'" he said. "All of a sudden, it's not. But you want the team to win, because you love the team and love the guys. And I really liked Alex. He was my friend. I helped him any way I could. But at the same time, you're pissed. Really pissed. You celebrate when the team wins, but you're not as into it as you would be. You try, but it only goes so far."
The career of a football player ebbs and flows with every play. Smith's approach and how he's handled himself the past several months has underscored his character. It's a lesson he learned from his college teammate.