Instant Debate: Kaepernick or Smith?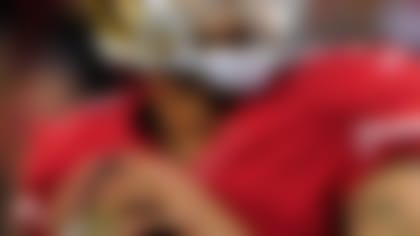 Given a chance to shine, Colin Kaepernick shredded the Bears. Should he start for the 49ers going forward? **More ...**
Colin Kaepernick put the 49ers' quarterback position in question after his performance against the Bears. The second-year pro threw for 234 yards and two touchdowns with a 133.1 passer rating. All of this against a Bears defense that is no worse than the second-best in the NFL.
Kaepernick didn't look like a first-time starter and didn't rely on the athleticism that allowed him to rush for three consecutive 1,000-yard seasons in college. The 49ers scored 20 points in the first 23 minutes and Kaepernick was 7-of-8 passing during the first two drives. The offense surpassed the 30-point plateau just once this season with Alex Smith, who was out with a concussion, under center.
Harbaugh didn't quell the conversation by saying they will go with the hot-hand. Several players raved about Kaepernick postgame.
"It's no secret, bro -- that dude can play ball," Michael Crabtree said. "It was too much for them. Colin's a baller.
"That's one dude I know I don't have to worry about."
Smith's concussion symptoms worsened as the week wore on and he couldn't pass a final contact test. Doctors made the decision, but Smith seemed better Monday night.
Kaepernick can physically make plays that Smith cannot and adds a read-option element to the offense with his speed. No one expected such a polished all-around game from him, however, especially against the Bears. Harbaugh has been Smith's strongest supporter since taking over the program, but he sounded open to a change.