Instant Debate: Kaepernick or Smith?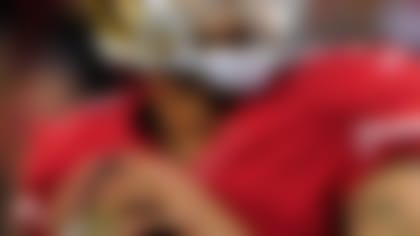 Given a chance to shine, Colin Kaepernick shredded the Bears. Should he start for the 49ers going forward? **More ...**
At least, we think it was his ceiling.
Smith finished with 5.5 sacks of Bears quarterback Jason Campbell, putting up an all-time defensive stat line in a 32-7 victory at Candlestick Park. No player's ever had more sacks on the "Monday Night Football" stage.
Smith has an NFL-leading 15 sacks on the season and 28.5 sacks in his first 26 career games. That's the most production in a player's first 26 games since sacks became a recorded stat in 1982.
Late in the fourth quarter, ESPN cameras captured right tackle Gabe Carimi staring into the abyss on the Bears sideline. Smith treated Carimi -- listed at 6-foot-7 and 314 pounds -- like a rag doll all night. It was a beating both physical and psychological. Smith was simply playing at another level.