The Minnesota Vikings running back told reporters during a Wednesday conference call that he is close to full strength and intends to participate in offseason workouts. Peterson underwent an operation to repair his groin in late January.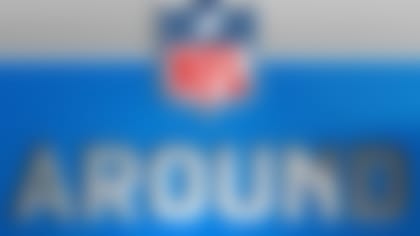 The Around The League team hits all the NFL's hottest topics in its award-winning podcast. Join the conversation. Listen
"I can't really put a date on it, but I do look forward to participating," Peterson said. "Right now the most important thing is getting healthy and that's what I'm doing. I'm rehabbing, working out still, trying to get the body back to where it needs to be."
Peterson said he originally injured his groin in a Nov. 3 loss to the Dallas Cowboys. He attempted to play through the ailment for two weeks before being forced out of the lineup. Peterson believed a foot injury he later suffered was an extension of the groin issue. Peterson was held to 14 games and 1,266 rushing yards one season after his 2,097-yard masterpiece.
"I can't sit here and say that I'm back right now, but I am not far off at all," he said.
Peterson doesn't believe he needs to lessen his workload as he approaches his 29th birthday. That said, this marks the third consecutive year the star has had surgery in the offseason.
He underwent ACL reconstruction surgery on his knee in 2012 and sports hernia surgery in 2013. The most recent procedure is considered to be more minor for the past MVP.
In the latest edition of the "Around The League Podcast", the guys begin the offseason Roster Reset series with the AFC West and dive into the ATL mailbag..