Just 10 months ago, Adrian Peterson's left knee was shredded. With one hit, his future had been rendered a complete mystery.
The Minnesota Vikings star vowed he'd never miss a game. He said he'd still be productive when he returned. He was going to be different.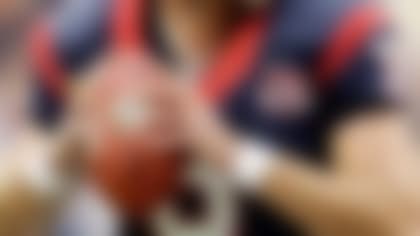 Our analysts provide Super Bowl picks with four Sundays in the books. Matt 
Schaub's Texans get love on the AFC side. More ...
Of course, all guys who blow out their knees say this kind of stuff. Peterson just happens to be special enough to back it up.
"It just seems like that was the Adrian that we were hoping to see," coach Leslie Frazier said Sunday, via 1500ESPN.com. "Didn't know if would be the sixth game, seventh game, eighth. But (Sunday), there were some runs he made that he finished that you go like, 'Wow. He's about there, if he's not quite all the way there.' It just looked like the Adrian of old in so many ways."
"It's huge, man," Peterson said of the Vikings' success in the running game. "For teams coming in, they know that, hey, the Vikings are going to run the ball. We've got a good offensive line. Just look at the defense we played (Sunday). They had an extra guy in the box and we still were able to be productive."
According to 1500ESPN.com, Peterson had three runs of 12 yards or longer, while eight of his carries (38.1 percent) went for a first down. The Vikings have already started to run their offense through their biggest star, which might be even more surprising than their 3-1 start.