His career achievements are staggering. Eighteen seasons, four Super Bowl rings, 499 field goals. He even has a touchdown pass, which I'm sure he can recall with impeccable detail. Vinatieri, 41, showed little in the way of slippage this season, connecting on 35 of 40 field-goal attempts.
I took a brisk walk through Radio Row with the kicker and asked him how long he planned to keep doing this.
"I feel that as long as I'm an asset and not a liability I'm still loving the game as much as I ever have," he said. "I feel like I potentially have a few more years as long as I can keep my body feeling healthy and keep kicking at a high level."
We had to ask about recent comments from NFL Commissioner Roger Goodell, who discussed a proposal to abolish the extra point. As you can assume, Vinatieri is not about it.
"I don't think any of us are above the ability to change football from what it is," he said. "I mean, it's been the way it has been for 100 years. I don't know if we should start changing that stuff up."
Vinatieri then offered up a counter idea only a kicker could come up with.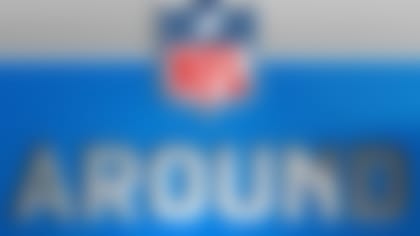 The Around The League team hits all the NFL's hottest topics in its award-winning podcast. Join the conversation. Listen
"If anything, make a 50-yard field goal worth four points instead of three," he said. "Now all of a sudden we become more valuable rather than less valuable."
Vinatieri's idea feels a little too "Rock 'n' Jock" to us, but we're not on board with eliminating the extra point, either. If the NFL thinks the point-after attempt is too easy, why not just push the kick back 10 or 15 yards?
Sometimes the best solution is the easiest one.