Eyebrows were raised when it was learned Adam "Pacman" Jones remained attached as a speaker at the NFL's Rookie Symposium this month despite his recent arrest for allegedly striking a woman outside Great American Ball Park in Cincinnati.
Debate: Top 'Hard Knocks' subplots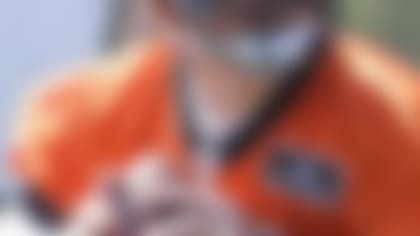 It's official: Andy Dalton and the Bengals will be featured on "Hard Knocks." What are Cincinnati's most enticing storylines? **More ...**
"Why would I not keep talking to the youth and help the youth out like I did last year because of somebody else acting up?" Jones said. "I guess right now I'm getting accused of doing something wrong. The video (of the incident) speaks a thousand words and that'll take care of itself, but I don't see any reason why I should be shying away from any conversations or anything that matters to me and my youth.
"My reputation speaks for itself. I'm a good father, a good husband and I'm good in the community, too. I'm not out getting drunk, harassing people and being a (jerk) to people."
Obviously, Jones has a different viewpoint than others in matters concerning his reputation. His behavior has improved in recent years, and Jones said his inability to shake his past will be a talking point with the rookies.
"Of course, it will be. No matter how much I've done to improve or give back to the community or just growing as a person, the first time something pops up, it's all, 'Well, he's done this in the past,'" Jones said. "I've made this bed for myself. I'm not comfortable lying in it, but, at some point, the past has to be the past. ... I'm truly proud of the person I've become and I'm still growing every day. I don't have no regrets or worries."
We're still somewhat surprised Jones is involved with the symposium given the open-ended nature of his current legal problems. Jones is optimistic the truth will come out regarding his arrest -- the NFL must be fairly confident as well.