Aaron Rodgers, like everyone else, was thrilled to have the regular officials back on the field this past week. The Green Bay Packers quarterback had a special pregame moment with the crew.
"I was obviously happy to see those guys back," Rodgers said during his weekly radio appearance on WAUK-AM in Milwaukee with Jason Wilde. "I told Jeff Triplette, 'Hey it's great to have you back.' It's been a long process.
"Him and a couple of the other refs thanked me for my comments. I did say, 'just so you know that doesn't mean we're not going to yell at you,' though."
Rodgers apologized to fans on behalf of the NFL and admonished the league for its use of replacement referees during his show last Tuesday, one day after the Packers lost to the Seattle Seahawks on a Hail Mary when the officials ruled an apparent interception a touchdown. A deal was struck between the league and officials within 48 hours.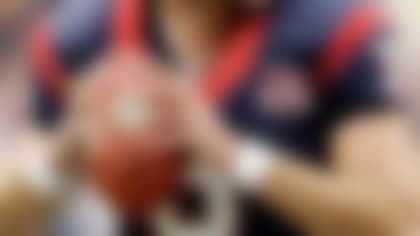 Our analysts provide Super Bowl picks with four Sundays in the books. Matt 
Schaub's Texans get love on the AFC side. More ...
Packers linebacker Dezman Moses crawled out of the pile with the ball. The officials ruled Sproles down by contact and the Packers were out of challenges. The Saints drove into field-goal range, but Garrett Hartley missed a 48-yarder with 2:54 left in the game.
"It was frustrating," Rodgers said. "The way that the reviews have gone now with them reviewing all scoring plays and turnovers as well, you would think that would just continue to encourage a late whistle. Because if it is ruled a turnover, and there wasn't a whistle for down by contact, you can go back and review that and make sure it was a turnover."
Rodgers makes sense, but there's a slippery slope with the rationale. That practice could cause officials to become too reliant on replay and avoid making calls on the field. Like everything else, moderation is the key.