"NFL Total Access" has launched its "32 in 32" series, breaking down the biggest subplots of every NFL team as the 2013 season approaches. Around The League will follow along and offer our own take. Up next: The Tennessee Titans.
There's no getting past the fact that Tennessee Titans quarterback Jake Locker holds the key not only to the 2013 season but to the future of the franchise. Still shaky in the pocket, Locker failed to show improvement last season while dealing with a season-long shoulder injury, an inconsistent rushing attack and a subpar offensive line.
Instant Debate: The pressure is on ...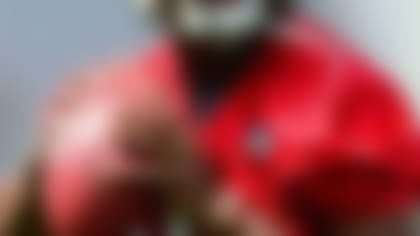 The Titans are installing a new Locker-friendly offense after upgrading at offensive line, running back and wide receiver. If Locker can't master the fundamentals of the position with a stacked deck, the front office will have to explore alternatives in 2014.
One thing Locker has going for him is an improved receiving corps. Kenny Britt "went and got his knees right" after a lost 2012 season. He has the talent to provide Locker with a legitimate No. 1 receiver.
The ingredients are in place for running back Chris Johnson to regain the consistency missing during his past two boom-or-bust seasons. The signing of Shonn Greene to play the old LenDale White "Mr. Inside" role will allow Johnson to be used more in space as "Mr. Outside" -- similar to his electric rookie season. Offensive coordinator Dowell Loggains plans to go with a run-heavy approach now that the additions of Andy Levitre, Chance Warmack and Brian Schwenke puts the Titans' offensive line on par with the Tampa Bay Buccaneers' secondary as the most improved units in the NFL.
The Titans did not make a host of defensive changes after surrendering the most points in the NFL last season. They appear to be counting on Gregg Williams' heavy blitzes and more help from the offense and special teams in preventing game-changing plays. The Titans allowed eight touchdowns combined on interception returns, fumble returns, kickoff returns and blocked punts.
Our takeaway: Name a team with a wider range of outcomes this season than the Titans. They have the talent to steal the AFC South out from under the Houston Texans and Indianapolis Colts. On the other hand, no one would be shocked if they were in the Jadeveon Clowney sweepstakes by December. The quarterback and the coaching staff have to perform better to avoid that fate.