The NFL draft is moving two weeks later than usual, at least for 2014.
Instant Debate: The pressure is on ...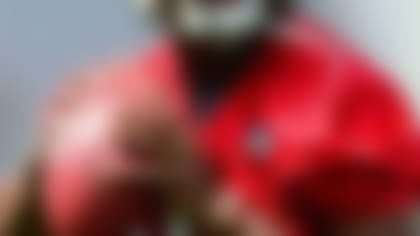 The league announced Tuesday that the 2014 NFL Draft will be held May 8 through 10 at Radio City Music Hall in New York. The league also was considering moving the draft to May 15 through 17 because of scheduling issues at Radio City Music Hall, NFL Commissioner Roger Goodell confirmed last week at the NFL Spring Meeting.
"The decision was made after discussions with club personnel and key NFL business partners," the league said in a statement Tuesday. "No decision has been made regarding the dates of the NFL Draft in 2015 and beyond. A variety of alternatives are being explored, teams were told, including holding the draft at Radio City or at other locations, either in the New York area or in other cities."
There have been discussions about dramatically changing the NFL's offseason calendar, including the dates of the NFL Scouting Combine and the start of free agency, but those possible changes won't happen until 2015 at the earliest. The NFL announced the 2014 dates of those events, which are at the same time as previous years.
The combine will be held Feb. 18 through 25 in Indianapolis. The new league year and free agency will begin March 11, 2014. The NFL Annual Meeting will be held in Orlando, Fla., on March 23 through 26.
Brooks: Richardson vs. Morris
Alfred Morris out-did Trent Richardson last season, but does that mean he's the better back? Bucky Brooks breaks it down. More ...
NFL.com's Albert Breer reported that the NFL's original preference was for the combine to happen in March, with the league year beginning in April and the NFL draft in May. However, no agreement was reached with the NFL Players Association on changing the start of the league year.
The NFL's release pointed out that the change in the date of the draft won't have any effect on when rookies will be able to report to their teams or the length of the offseason program in 2014. The league also doesn't plan to reduce the number of practice days for 2015.
This looks like a "trial" year for the draft in May. If it goes well, we can expect the already-long "draft season" to add a few more mock drafts.