Since being drafted by the New York Jets, Smith has become the most gabbed-about, written-about, gossiped-about rookie in all of the NFL. Coming from West Virginia, Smith's introduction to the New York media has been a mixed bag.
"It's just eye-opening," he told SiriusXM NFL Radio on Sunday. "It allows you to see exactly what field you're in, what business you're in. It comes with the territory; I fully accept it."
Instant Debate: NFL's biggest arm?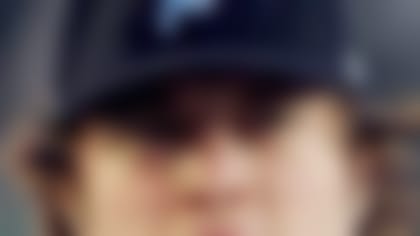 Which QB boasts the strongest arm in the NFL? Our analysts debate, with Matthew Stafford getting some love. More ...
Smith's duel with Mark Sanchez already dominates the back pages, but the Jets are just one of a handful of teams preparing for a battle at quarterback. Here's a look at seven signal-caller races heating up as training camp nears:
1. Jaguars: Blaine Gabbert vs. Chad Henne
*The Jaguars are stronger on both sides of the ball, but the quarterback position is still a mess. Mark Long of The Associated Press called Wednesday's workout session the "worst day of quarterback play I've witnessed at Jaguars practice in years." Long previously reported that Gabbert "continues to struggle with short passes," and we also know that general manager Dave Caldwell will spend "much of the year" evaluating college passers. Gabbert has a chance to prove everyone wrong, but barring a miracle campaign, it probably doesn't matter who starts in 2013. *Advantage: Gabbert.
2. Raiders: Matt Flynn vs. Terrelle Pryor vs. Tyler Wilson
*Flynn -- one season removed from losing his job to Russell Wilson -- is back on his heels again. Tyler Wilson impressed the Raiders last week, with former NFL scout Dan Shonka noting that the rookie put on a show. Shonka playfully suggested that those in proximity should "keep Flynn away from sharp objects." (At least we think that was playful.) Pryor, meanwhile, flies under the radar. As it stands, I don't see Flynn sitting Week 1.Advantage:* Flynn. 3. Eagles: Michael Vick vs. Nick Foles vs. Matt Barkley
*Michael Vick last week called his critics a pack of ignorants who "know nothing about football," but here's what we do know: The 32-year-old quarterback was a goner in Philly before Chip Kelly replaced Andy Reid. Now Vick looms as the logical starter heading into camp. Vick admits that Kelly recently "taught" him how to properly hold the football while running with it. *For real. It's pretty clear Kelly is digging in. Foles, meanwhile, showed growth last season, and Barkley -- a seemingly odd fit for the Eagles -- has an outside chance for snaps. I wouldn't be surprised to see Kelly use all three. **Advantage: Vick.
4. Buccaneers: Josh Freeman vs. Mike Glennon
*Tampa sounds willing to throw Glennon into the fire. Coach Greg Schiano told National Football Post that Glennon "can play quickly." He followed by saying, "Only if he's needed ... or if he wins the job. Look, I'm not against that." Freeman has insisted his relationship with Schiano is solid, but it also appears fleeting. Glennon has a solid shot to start Week 1. But let's not get ahead of ourselves. *Advantage: Freeman.
5. Bills: Kevin Kolb vs. EJ Manuel
*New general manager Doug Whaley played a central role in drafting Manuel with the 16th overall pick in the 2013 NFL Draft. Whaley said he's open to starting the rookie right out of the gate, and that's exactly what will happen unless Manuel trips up hard in camp. Manuel told SiriusXM NFL Radio on Sunday that Buffalo's attack is "actually easier to learn than the offense at FSU," saying the, "learning curve for me is a lot shorter." Manuel is a work in progress, but we already know what Kolb is: A frustrating, brittle quarterback who can't make it through the season. *Advantage: Manuel.
See where players rank in "The Top 100 Players of 2013."
6. Jets: Mark Sanchez vs. Geno Smith
*The Jets are reportedly "smitten" with Smith, who would do this tortured fan base a favor by winning the job outright. Mark Sanchez has been unfairly brutalized, but his career is best served by a fresh start. Whether Geno will succeed is another question, but the rookie will be given every chance as general manager John Idzik reshapes this roster. *Advantage: Smith.
7. Browns: Brandon Weeden vs. Jason Campbell
*Too much was made of Jason Campbell getting off to a strong start this week. The Canton Repository reported that the veteran "definitely had better sessions than Weeden" on Thursday before falling back to earth on Friday. I can't take Brian Hoyer seriously as anything but a backup. Rob Chudzinski and Norv Turner are going all out to craft this offense to Weeden's strengths. Turner told Toni Grossi of ESPN Cleveland: "Brandon's got the physical skills to do what we want to do. ... I think (he) can have success in this offense, in this system." Optimistic talk, but Weeden is under pressure to prove it. *Advantage: Weeden.