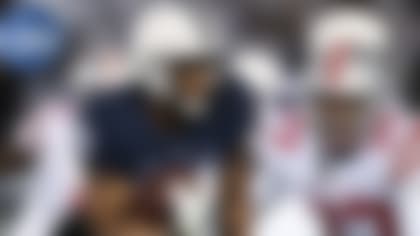 Editor's note: NFL.com analyst and former NFL scout Daniel Jeremiah takes a "first look" at college football's top players for 2017. This is the 12th in a series of scouting reports that will run throughout the offseason.
Scouting is a very difficult job. Trying to project how a college football player will transition and perform at the next level is not an easy task. Well, that's mostly true. On occasion, there are some players that make the life of a scout quite easy. After a few plays, you just put the pen down, sit back and enjoy the video. That's exactly what I did when I studied Penn State running back Saquon Barkley. He wasn't very tough to figure out. Here's my scouting report for the ultra-talented ball carrier.
Click through tabs above to see other scouting reports.
Saquon Barkley, junior running back, Penn State
Height, weight: 5-foot-11, 223 pounds (school measurements)
2016 statistics: 272 carries for 1,496 yards (5.5 average), 18 TDs; 28 catches for 402 yards (14.4 average), 4 TDs.
Game tape watched: Temple (Sept. 17, 2016), Michigan (Sept. 24, 2016), USC (Jan. 2, 2017)
What I liked: I'll do my best to condense my thoughts here. I pretty much like everything about Barkley's game. He has patience, vision and power as an inside runner. He can step through tackles or drop his shoulder and run through them. He is very quick laterally to avoid defenders in the hole. He has an excellent burst to the perimeter on outside runs. Once he gets the corner, he's elusive in space and has the speed to go the distance.
He's very dependable in pass protection. He's assignment aware and does a nice job squaring up blitzing linebackers to stall their charge. He also has very strong, reliable hands. He can pluck the ball away from his frame and he's explosive after the catch. He gets rave reviews from teammates and coaches for his tireless work ethic. His weight-room accomplishments have been well noted this offseason.
Where he needs to improve: There aren't many areas where Barkley needs to improve. There have been a few occasions where he gets "bounce happy" instead of staying inside and taking a 2-3 yard gain. He has some negative plays as a result of his eagerness to hit the homerun. I'd love to see him used in a more diverse way in the passing game. He has the ability to split out and run routes like a receiver, but his opportunities were limited last year. Hopefully that will change this fall.
Biggest takeaway: Barkley is everything you'd want in a modern-day running back. He can run with power, generate explosive runs and contribute on passing downs. As a player, he reminds me a lot of Ezekiel Elliott coming out of Ohio State. I thought Elliott was one of the best pass-protecting college running backs I'd ever evaluated and Barkley is right on that level. Both guys have that ideal blend of size/speed and they are very instinctive football players.
I can't wait to see him play ... Ohio State on Oct. 28. The Buckeyes are loaded with talent on defense (again), including DEs Sam Hubbard, Nick Bosa and Tyquan Lewis. That should make for an exciting matchup against Penn State's explosive offense. Barkley led the Nittany Lions to a massive win over OSU last fall. If he somehow does it again, he might just win the Heisman Trophy.