Vanderbilt wide receiver Jordan Matthews further established himself as one of the top receivers in school history, becoming the first Commodores receiver ever to post two 1,000-yard seasons.
With a career-high 12 catches for 141 yards in a 22-6 Vandy win over Kentucky, the senior never found his way into the end zone, but he consistently hurt the Wildcats' defense on a variety of pass routes. He also picked up 31 rushing yards on two carries.
Week 12: Top WR performances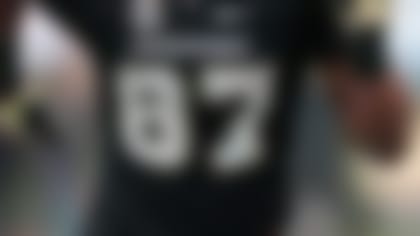 Vanderbilt's Jordan Matthews made school history with another huge performance, but a miraculous touchdown catch headlined our top WR performances of Week 12. **More ...**
"Jordan Matthews was very hard to defend. He made some very nice plays and he's a very good wideout," said Kentucky coach Mark Stoops. "He was tough to defend, but other than that I thought the defense played very well."
Matthews will be among the top receivers chosen next spring in the 2014 NFL Draft. He ranks as the No. 46 senior draft prospect on NFL Media draft analyst Gil Brandt's Hot 100 seniors list.
At 6-foot-3, 205 pounds, Matthews has good size and more than enough speed to get open. He excels over the middle, and is especially dangerous when he catches the ball in stride on crossing routes and posts, routinely beating defensive backs to the corner and turning upfield for big yardage.
Matthews now has an SEC-high 83 receptions on the season for 1,076 yards and five touchdowns.