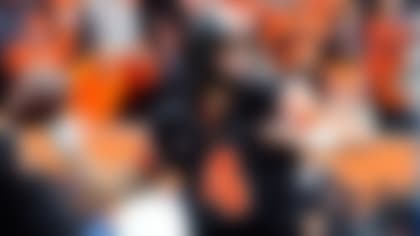 1. Mannion-to-Cooks best QB-WR connection right now
Sean Mannion and Brandin Cooks have special chemistry. In Oregon State's 44-17 demolition of Colorado, Cooks caught nine of Mannion's passes for 168 yards and two touchdowns, giving him 52 receptions, 807 receiving yards and nine scores in five games this season.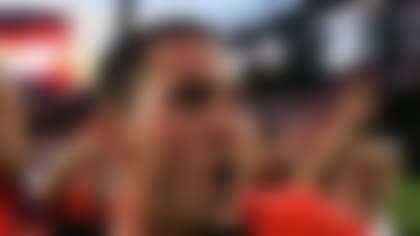 From Aaron Murray's big-game heroics vs. LSU to Oklahoma's statement win at Notre Dame, here are the things we learned from college football's fifth weekend. More ...
Mannion can throw it up for grabs and know Cooks will be there to bring it in, even when the defense knows it's coming. That's special, the kind of relationship usually associated with Montana and Rice or Bradshaw and Swann.
The Beavers aren't a perfect team by any stretch. The running game is non-existent despite Mannion's prolific pace (414 passing yards and a school single-game record six touchdowns against the Buffaloes), and defense is still a weakness. But with Mannion and Cooks playing this well, it masks a lot of issues and has OSU in position to upend the apple cart for Pac-12 North favorites Oregon, Stanford and Washington.
2. USC left hoping for good news about Marqise Lee's knee
It did not look good. That's the only way to describe the way USC star wide receiver Marqise Lee's left knee was twisted and injured while returning a punt in the Trojans' 62-41 loss at Arizona State.
Lee entered the season as the unquestionable top receiver in college football, but poor quarterback play and concentration issues limited his effectiveness this season. He had a ball bounce off his hands in the first half, resulting in an interception that turned the momentum after USC was in control of the game.
Still, his electric talent would position Lee as the top receiver in the 2014 NFL Draft, but that could now be in doubt depending on the severity of the injury.
Lee's injury leaves USC with only two available wide receivers on scholarship.
One of the arguments USC made when asking the NCAA this week for relief from the scholarships reductions imposed in the Reggie Bush case was the severely reduced numbers on the roster leading to unsafe conditions for its players. Take that accusation as you will, but USC's reduced numbers were definitely a factor against the Sun Devils.
Even when down by 27 points in the third quarter, USC didn't have enough players to go to a no-huddle offense. Lack of depth at receiver and cornerback was exposed by ASU. That's not enough to save Lane Kiffin's job and will make it that much harder to find a suitable replacement.
4. Ducks dominate minus De'Anthony
Ho hum, Oregon put up 55 points on just 381 yards of total offense, a school-record fourth straight game with 50-plus points. The Ducks did so without running back De'Anthony Thomas, who rolled his ankle on the opening kick return.
The level of athleticism on this roster -- see Addison, Bralon -- is so much better than when Oregon played in the BCS championship game in 2011, it's not even funny. There are still stiff tests against Washington, UCLA and Stanford to come, but first-year head coach Mark Helfrich has a team more than capable of reaching the heights even Chip Kelly couldn't reach.
Mike MacIntyre said all the right things during the Buffaloes' unexpected three-week layoff, but his team was not ready for the step up in competition that came with their conference opener. In the first half, CU didn't have a drive longer than six plays with four three-and-outs. Before posting a pair of 80-yard touchdowns in the fourth quarter, CU's best drive covered only 28 yards.
And with OSU determined to contain junior wide receiver Paul Richardson at all costs, CU didn't have anyone else capable of making things happen. MacIntyre has brought a great attitude to Boulder and can get the program turned around, but it will take a while before CU can really compete and win in the resurgent Pac-12.
6. Arizona's passing game has work to do
Rich Rodriguez inherited a fantastic situation when he arrived at Arizona last season, with dual-threat quarterback Matt Scott ready to run his offense already on the roster. That was demonstrated by the poor passing the Wildcats had to try to overcome in their first Pac-12 game since Scott's graduation, a 31-13 loss at Washington.
B.J. Denker was 14-of-35 passing for 119 yards with two interceptions, numbers that seem a lot better in print that the senior's performance would indicate. There was no rhythm, no fluidity, no consistency. Without dramatic improvement, opposing defenses will load the box against running back Ka'Deem Carey and dare Denker and a suspect group of receivers to beat them.
7. Bishop Sankey is a workhorse
Remember how the proliferation of spread offenses was supposed to mark the end of the feature back? Tell that to Washington junior Bishop Sankey, who had a school-record 40 carries against UA. He is now averaging 23 carries per game in his 17 career starts, which does raise some questions about whether Sankey can sustain such a heavy workload.
8. Stanford's receivers are for real
Ty Montgomery introduced himself to the nation last week. Now it was Devon Cajuste's turn to make his name, making a mockery of a Washington State secondary that had played well through the first quarter of the season.
Cajuste had four receptions for 115 yards with touchdown grabs of 57 and 33 yards in the 55-17 humbling of the Cougars. At 6-foot-4 and 228 yards, Cajuste is an unconventional deep threat with a great rapport with quarterback Kevin Hogan.
9. Cal needs to break out wet footballs in practice
The Golden Bears' skill players looked like they had never seen rain before, let alone played in it. Now this was more than rain -- this was a biblical downpour -- but Cal fumbled the ball away four times in the first quarter. Somebody did tell head coach Sonny Dykes his team will be playing in the state of Washington and Oregon every season, right?