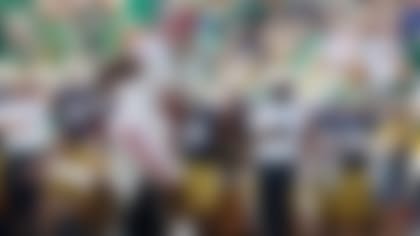 Here are some observations from the Big 12 action on Saturday:
1. Oklahoma salvages some conference credibility
The Big 12 was facing a season in which its most high-profile win outside the league would be against a Mississippi State team all but certain to finish last in the SEC West. Oklahoma's 35-21 win at Notre Dame is huge in terms of national respect. The Fighting Irish are nowhere near as good as last year's team that played in the BCS championship game, but beggars can't be choosers.
This result at least gives the Sooners an argument they belong in the national conversation, especially if the SEC and Pac-12 cannibalize themselves in conference play. But that case might be contingent on an undefeated OU playing an undefeated Baylor on Nov. 7, with lots of help.
2. Sooners have emerging stars on defense
Considering Bob Stoops' pedigree on defense, it was shocking to see so few OU defenders in the national conversation coming into this season. There was senior corner Aaron Colvin and not much else, but that is starting to change.
Outside linebacker Corey Nelson had only one tackle, but his 24-yard pick six had ND digging out of a hole from the third play from scrimmage. Fellow linebacker Frank Shannon had an interception on the Irish's very next play and finished with a team-high eight tackles (0.5 tackles for loss). Corner Zach Sanchez was seemingly in two places at once anytime quarterback Tommy Rees put the ball up, breaking up three passes.
The defensive line isn't going to be mistaken for those that Stoops rolled out in the early-2000's yet, but that back seven is perfectly suited to match the wide-open style of the Big 12.
3. West Virginia's defense will keep them in games
Where was this last season? If West Virginia had a remotely competent defense in 2012, the Mountaineers certainly wouldn't have lost six of their final last eight games. Now, a defense that is shaping up as one of the best in the Big 12 is being asked to carry a struggling offense. It didn't work in a 16-7 loss at Oklahoma to open conference play. It certainly did in Saturday's 30-21 stunner over Oklahoma State.
Safeties Darvin Cook and Karl Joseph have grown immensely after being thrown in the deep end last season. Corner Ishmael Banks got WVU on the board with a 58-yard pick six. The defensive line smothered the run game of the Cowboys.
If head coach Dana Holgorsen can get his passing attack up to par to pair with running back Charles Sims (60 rushing yards and one touchdown; 82 receiving yards) and this defense, WVU will be a very tough out in the Big 12.
4. If healthy, Clint Trickett looks to be the Mountaineers' staring QB
Clint Trickett is never going to be mistaken for a physical marvel. With just 180 pounds on a 6-foot-2 frame, he looks downright tiny when standing behind his offensive line. His arm strength isn't anything to shout about. But Trickett made up for it with a huge heart against Oklahoma State, overcoming a shoulder injury to make several crucial throws in the fourth quarter. Trickett provided the spark that WVU had been so sorely lacking on that side of the ball.
5. WVU shows what not to do in four-minute offense
Holgorsen might be an offensive guru, but someone buy that man a watch and a reminder that there is no reason to snap the ball with 17 second left on the play clock when trying to run out the clock.
6. Oklahoma State cannot be one-dimensional
Quarterback J.W. Walsh has the dual-threat skills to be special, but he showed his inexperience with poor decision-making against WVU, especially on third down. The Cowboys were 6-of-20 when trying to extend drives, with Walsh converting only twice with his arm.
With running backs Jeremy Smith and Desmond Roland totaling 58 rushing yards on 22 carries, OSU was always behind schedule and putting Walsh in bad situations. Without balance, this year's OSU team isn't good enough to compete for a BCS bowl.
That wasn't Tavon Austin and Stedman Bailey playing wide receiver for WVU, but breakdowns by the OSU defensive backs allowed plenty of Mountaineers to get open. Knowing the quality of passing offenses OSU will face during the rest of its Big 12 slate, major improvement is needed.
8. TCU's offense remains a work in progress
Trevone Boykin is starting to settle in at quarterback and showed it with some great throws in the 48-17 win over SMU, notably on a 20-yard touchdown to Ty Slanina in the third quarter. But Boykin still gets flustered at times and hasn't had the benefit of a reliable running game to take the pressure off. The Horned Frogs had 107 rushing yards on 36 carries, not nearly enough production to consider them a threat to finish in the top half of a less-than-vintage Big 12.
9. Even without Fields, Horned Frogs get to the passer
The good news is that TCU's defensive line finally found ways to create sacks and pressure. The better news is they did so without star sophomore end Devonte Fields, who was out with a foot injury.
Even with a lockdown secondary anchored by corner Jason Verrett, who left the game with a shoulder injury that is not believed to be serious, the front four was struggling to get more than coverage sacks. That changed in the second half, as TCU finished by bringing down quarterback Garrett Gilbert seven times. Defensive tackle Jon Lewis stood out with two sacks.
10. Aaron Wimberly shines for Iowa State
It took a couple of games for running back Aaron Wimberly to get going, but the junior-college transfer delivered 137 rushing yards and 31 receiving yards in the Cyclones' 38-21 win over Tulsa on Thursday. The undersized junior (5-foot-9, 173 pounds) averaged 7.2 yards per carry and kept the Golden Hurricane from focusing squarely on quarterback Sam Richardson.