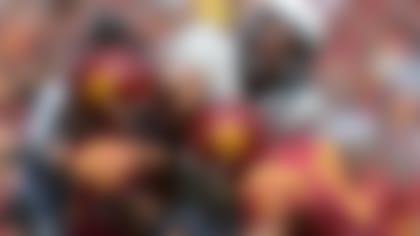 Here are some observations from Saturday's Pac-12 action:
1. Stanford makes a statement
For three quarters, Stanford was in complete control against Arizona State. The Cardinal offensive and defensive lines dictated the game, letting running back Tyler Gaffney grind out yards and putting quarterback Kevin Hogan into the comfortable position of game manager.
For three quarters, Stanford delivered a declaration that it could be the most complete team in college football, with the same kind of total domination that had been attributed to Nick Saban's Alabama. It showed off newfound depth and playmaking on the perimeter at receiver and defensive back.
And then head coach David Shaw called off the dogs. He pulled Hogan to get Evan Crower some game experience and began shuffling in backups, allowing ASU to surge back and turn a 39-7 lead into a 39-28 potential nail-biter with 6:18 to play.
Hogan and Co. were able to finish things off, but Shaw and his team learned a lesson. No lead is ever big enough, especially when facing an Oregon or Washington or UCLA with superior firepower on both sides of the ball. It might be the best result possible, even if Stanford threw away style points in the process.
2. Arizona State makes a statement, albeit a bad one
The Sun Devils would greatly appreciate if it never again played a "statement game." Arizona State had two such opportunities in 2004 and got smoked by USC and California. Two more opportunities in 2007 ended with ASU being pummeled by Oregon and the Trojans. Last season, head coach Todd Graham's first such circumstance had the Ducks up by 36 points before ASU added two window-dressing touchdowns late.
If not for Shaw's odd decision to step off the gas too early in the fourth quarter, this would have been the latest addition to that dubious lineage.
Taylor Kelly is not yet an elite quarterback, throwing an awful interception to defensive end Josh Mauro on ASU's first possession and buckling under relentless first-half pressure. Running back Marion Grice (17 carries for 50 yards, one touchdown) was smothered by Stanford's dominant front seven.
The totality of the first three quarters revealed that Arizona State still has strides to make before it truly belongs in the Pac-12's top tier.
3. USC's defense passes its first test
If Lane Kiffin had any sort of consistent, competent offense right now, all anyone would be talking about is the near-miraculous work new coordinator Clancy Pendergast has done with the USC defense. Over the course of one spring practice and fall camp, Pendergast has turned a ramshackle collection of talented pieces into a devastatingly effective unit. They control the line of scrimmage, they get after the quarterback, and they create turnovers.
Defensive end Leonard Williams and outside linebacker Morgan Breslin, the lone bright spots from last season's group, continue to impress, and outside linebacker Devon Kennard and defensive tackle George Uko are finally playing up to their immense talent and recruiting rankings.
Sure, there is still the occasional breakdown -- though they are happening much less frequently than they did last season under Monte Kiffin -- and Pendergast's aggressive tendencies can be used against him, but this looks like a championship-caliber defense.
4. The offense, on the other hand ...
Lee, Nelson Agholor and the USC tight ends have plenty of talent, and Tre Madden came up just short of his fourth consecutive game with 100 rushing yards. The pieces are there, but the playcalling and quarterback play are going to keep USC from reaching its potential.
5. Another slow start for UCLA
It was OK when it was the first game of the season, it was excusable when it was a 9 a.m. Pacific kickoff, but the Bruins' third consecutive lethargic start is officially a concern. UCLA turned the ball over twice in the first quarter in the red zone against lowly New Mexico State and didn't come out with the necessary fire.
If UCLA is going to compete with the top teams from the Pac-12 North and put itself in position to play for the BCS title, those are opportunities that cannot be wasted. Fail to capitalize on such opportunities against Oregon at Autzen Stadium, the Ducks will steamroll. Do it against Stanford, the Cardinal can continue to grind you down with their physical style.
6. Utah's clean sheet secures Holy War win
Turnovers will determine the Utes' trajectory this season. Quarterback Travis Wilson threw three interceptions last week against Oregon State, leading to 14 points in the Beavers' 51-48 overtime win.
Wilson cleaned up the mistakes against BYU, allowing Utah's explosive plays, a revived running game featuring James Poole (18 carries for 96 yards) and a terrific pair of defensive ends to carry the day.
That's the formula that can take Utah back to a bowl game.
7. Washington State's defense delivers again
The Cougars hadn't shutout an opponent since 2003, but changed that by blanking Idaho. It took putting the WSU starters back in on the final possession to secure that milestone, leading to some post-game friction between head Pirate Mike Leach and Vandals coach Paul Petrino.
Washington State is still a little too careless with the ball -- quarterback Connor Halliday threw another red-zone interception -- but the dramatic improvement on defense could make this team the gnat in the Pac-12 North.
With the exception of a penalty-prone offensive line, the Huskies did everything one would expect in a 56-0 throttling of Idaho State. Three quarterbacks saw action. Six running backs had at least four carries, including redshirt junior Deontae Cooper, who scored his first touchdown since suffering three serious knee injuries.
Now let us never speak of this game again.