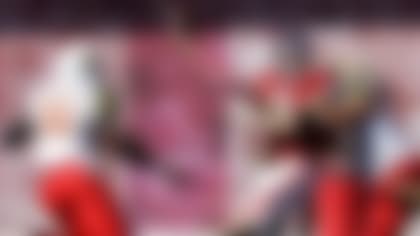 91. Indiana (preseason: 28th)
Main starter: Nate Sudfeld
Buzz: Sudfeld, who has a nice arm but had been inconsistent, has been lost for the season with a shoulder injury. The question is which true freshman takes over: Chris Covington or Zander Diamont, who is more of a dual-threat guy than a pocket passer.
Check out the alternate college football uniforms worn during the 2014 season.
92. Virginia (preseason: 98th)
Main starter: Greyson Lambert
Buzz: The Cavaliers have performed better than expected, but it's not because of sterling quarterback play. Lambert has shared time with Matt Johns, and while each has had his moments, inconsistency has been a constant.
93. Georgia State (preseason: 101st)
Main starter: Nick Arbuckle
Buzz: Arbuckle, a JC transfer, has provided a needed boost for the passing attack. He has nine TD passes but also eight picks. Georgia State's offensive coordinator is Jeff Jagodzinski, a former Boston College coach who also has been an NFL assistant.
94. LSU (preseason: 57th)
Main starter: Anthony Jennings
Buzz: Neither Jennings nor true freshman Brandon Harris has been a consistent passer. They have completed fewer than 50 percent of their passes in three of four games against tougher competition.
95. Northwestern (preseason: 53rd)
Main starter: Trevor Simien
Buzz: Simien has a nice arm but must become more consistent; he has more picks (five) than TD passes (four).
96. Pittsburgh (preseason: 64th)
Main starter: Chad Voytik
Buzz: Voytik has been an inconsistent passer, and aside from a 100-yard performance against FIU, he hasn't been nearly as effective as expected as a runner.
97. Michigan (preseason: 32nd)
Main starter: Devin Gardner
Buzz: Gardner has all the needed physical tools -- he has a strong arm and can be a dangerous runner -- but remains wildly inconsistent.
98. South Alabama (preseason: 118th)
Main starter: Brandon Bridge
Buzz: Bridge, a Canadian who began his career at FCS member Alcorn State, is a big guy (6-5, 220) with dual-threat capabilities. But while Bridge has the needed physical talent and has an intriguing upside, he has not played all that well. Half of his six TD passes came last week against Appalachian State, so perhaps he is on track for a big second half.
99. UTEP (preseason: 47th)
Main starter: Jameill Showers
Buzz: Showers competed with Johnny Manziel for Texas A&M's starting job in 2012. Everyone knows how that turned out, and Showers left for UTEP. He played well when healthy last season, but has struggled with his consistency this season.
100. Purdue (preseason: 88th)
Main starter: Denny Etling
Buzz: Austin Appleby supplanted Etling as the starter in the past two games. Etling really struggled, but Appleby has provided a bit of a spark. Can he continue to do so?