NFL clubs that interview Florida defensive tackle Dominique Easley this winter will learn in time that one of the Gators' top pro prospects is a bit eccentric. His prized possession, in fact, is a "Chucky" doll, from the horror film series, hence his nickname "Chucky."
Things we learned in Week 5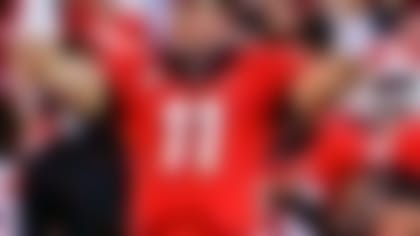 From Georgia's thrilling victory over LSU to USC's loss that got Lane Kiffin fired, here are 43 things we learned about Week 5 in college football. **More ...**
The doll goes where Easley goes. Until this weekend. Easley learned last week that his senior season has been lost to a torn ACL, but he made sure to send Chucky along on the team plane to Lexington, Ky., for UF's game on Saturday, a win over Kentucky. And he took care to entrust it to the right person: standout linebacker Dante Fowler, who took the doll to UK, according to palmbeachpost.com, and ended up making a pair of sacks.
"He was just like, 'I want you to have the Chucky doll,' " Fowler said. "With him being out, I wanted to take that torch and stuff like that. I feel like I can take his place and do big things like him and stuff like that. That's all I want to do."
No word on whether Fowler will take the doll to every game this season, but if two sacks is any indication of the luck it brings, he'll no doubt want to. Or perhaps Easley could give it to a struggling member of the UF pass rush. Fowler, after all, had a big game against Tennessee the previous week with no help at all from a doll.
As for Easley's pre-flight care instructions?
"Just take care of him and don't let no arms or nothing break off," Fowler said.
Long-term care for the doll, apparently, is a high priority for Easley. So NFL clubs in need of an elite pass rusher, be advised: Draft Easley, and a doll comes with him. And be prepared for Easley to demand that Chucky get his own rookie contract and a the smallest locker in the locker room.