Texas A&M's Mike Evans, Clemson's Sammy Watkins and Oregon State's Brandin Cooks are among 10 semifinalists for the Biletnikoff Award, presented annually to college football's top wide receiver.
Others include Davante Adams of Fresno State, Jace Amaro of Texas Tech, Odell Beckham Jr. of LSU, Antwan Goodley of Baylor, Vanderbilt's Jordan Matthews, Penn State's Allen Robinson and Ball State's Willie Snead. Missing the cut was Southern Cal's Marqise Lee, who won the award last year.
Week 12: Top WR performances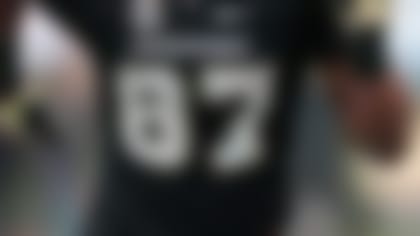 Vanderbilt's Jordan Matthews made school history with another huge performance, but a miraculous touchdown catch headlined our top WR performances of Week 12. More ...
As the only senior on the list, Matthews is the only semifinalist certain to be available in the NFL draft next spring, although several underclassmen are considering declaring early for the draft. Evans, Watkins and Beckham are among them.
It's a deep and productive group that could collectively have a significant impact on the early rounds of the 2014 draft, depending on who declares.
"The depth and quality of the 2013 crop of excellent receivers is the deepest in memory," award chairman Ritchie Pickron said.
If Biletnikoff Award winners of the recent past are an indication, the winner can be expect to be a prized draft pick. Detroit Lions star Calvin Johnson won the award in 2006, followed by two-time winner Michael Crabtree, Golden tate and two-time winner Justin Blackmon.
Cooks, a junior, leads the NCAA in catches (100), receiving yards (1,443) and receiving touchdowns (14). All but Adams have already reached 1,000 yards receiving on the season.
Three finalists will be announced Nov. 25, with the winner being chosen on Dec. 12 as part of the Home Depot College Football Awards show.