Junior Martavis Bryant is a physical marvel. At 6-foot-5, 200 pounds, he can be physical and has been clocked as fast as 4.48 in the 40-yard dash. Bryant was a national top-125 recruit out of high school in 2009 but didn't have the necessary academics and played at a prep school in 2010. He again was a national recruit and chose Clemson.
Week 12: Top WR performances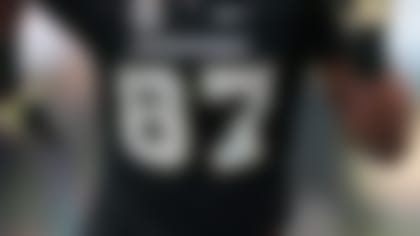 Vanderbilt's Jordan Matthews made school history with another huge performance, but a miraculous touchdown catch headlined our top WR performances of Week 12. More ...
But he didn't come close to living up to the hype in his first two seasons. He had 19 receptions combined in 2011 and '12, and coaches were on Bryant for his lack of consistency and focus on and off the field. Last season, he was suspended from the Chick-fil-A Bowl for academic reasons.
In the opener this season, he had zero catches against Georgia, then had a nice day in Game 2 against a FCS opponent. But he caught two TD passes in Game 3 against North Carolina State and began becoming a consistent target.
He had his best game for Clemson on Thursday night in a 55-31 win over Georgia Tech, catching five passes for 176 yards (35.2 yards per catch) and a score.
Watkins told reporters after the game he wasn't surprised by Bryant's performance.
"I've been in his ear every week telling him that he's an NFL-caliber receiver and that he's a freak athlete," Watkins said. "He understands that he's a big part of the offense now."
Bryant has 34 receptions for 698 yards (20.5 yards per catch) and four scores this season. Confidence has never been a problem for him, and that showed again Thursday night in his postgame comments.
"I always tell [quarterback Tajh Boyd] that if he just throws it up there, I'll get it," Bryant said. "He's not going to overthrow me, and not many people can."
Bryant is draft-eligible and a dangerous deep threat, but he must become a more polished receiver and showing he also can be productive when running something other than deep patterns. He and fellow junior Charone Peake, who was injured in Game 2 this season, could be a solid receiving duo for the Tigers next season.
During his weekly news conference Monday, Swinney said all of Clemson's underclassmen except Watkins need to return for their senior seasons. He said anyone telling them otherwise is giving bad advice.
Mike Huguenin can be reached at mike.huguenin@nfl.com. You also can follow him on Twitter @MikeHuguenin.