The 35-game march through bowl season has finally reached its ultimate destination, the BCS National Championship. Here are the top prospects to watch when Auburn and Florida State square off Monday with the national title on the line at the historic Rose Bowl (8:30 p.m. ET on ESPN).
The Tigers' five-month journey to college football's biggest stage began among the masses of the preseason unranked, having begun with almost no respect from pollsters in the wake of a coaching change and coming off a dismal 2012 record of 3-9. By the end of September, having barely nipped Mississippi State and lost to LSU, 35-21, there was still no sign of a potential national champion on the Plains.
The first measure of real respect came after Auburn upset Johnny Manziel and Texas A&M, 45-41, on the road on Oct. 19 to hand the Aggies their second loss of the year. That was the day Auburn quarterback Nick Marshall began to get his due, and while his passing skills have remained a work in progress, his effectiveness as a runner and decision-maker on option plays made him a late-season nightmare for opposing defenses. Two late-season wins over Georgia and then Alabama required a measure of last-minute good fortune, with the Iron Bowl upset and Michigan State's win over Ohio State in the Big Ten championship game opening the door for Auburn (12-1) to play Florida State for the title.
Auburn's top NFL prospects:
LT Greg Robinson: Perhaps the fastest-rising underclassman in the nation, Robinson has hinted that he's received a first-round grade despite being just a third-year sophomore who wasn't thought to be an early-draft-entry threat when the season began. A fully developed dominator as a run blocker, Robinson's pass-protection skills need some technique refinement, but include every physical trait needed to do so. With a consistent down block inside, Robinson makes it easy for Marshall to give the ball to Tre Mason for big inside yardage on read-option plays.
RB Tre Mason: The Tigers' offensive star ran through and around Alabama and Missouri for nearly 500 yards alone over his last two games, and had 1,621 yards for the season. A testament to the Auburn offensive line is that Mason has been hit for just 17 yards in losses all season, barely more than a yard per game, despite being the centerpiece of the offense with 283 carries. Just a junior, Mason has filed for a draft evaluation from the NFL and is considering early entry.
DE Dee Ford: The Tigers' top pass rusher is the team's top senior NFL prospect. Ford posted big numbers in the big-play categories this season with 12.5 tackles for loss, 8.5 sacks and 17 quarterback hurries -- all team-highs -- despite being unavailable to begin the season with a knee injury. Ford (6-foot-2, 240 pounds) is too small to play defensive end in the NFL, but fits the 3-4 linebacker mold well.
C Reese Dismukes: The anchor of the Auburn offensive line is finishing his third year as a starter, and has paved the way for a dominant rushing attack this season. Outstanding with line checks and front recognition, Dismukes is a junior considering early draft entry, and brings outspoken leadership to the Auburn front. Dismukes could benefit greatly from a return to college.
FB Jay Prosch: The senior didn't show up on the stat sheet this season with no carries and just five receptions, but his value is as a wrecking ball of a blocker. And that's the skill, if he makes it into the NFL, that will carry his pro career. The vaunted Auburn rushing attack needs a blocker who can not only open holes but reach linebackers at the second level, and that's what Prosch brings, be it between the tackles or on the perimeter. Fullbacks don't hear their names called often on draft day, but if a few get picked in 2014, Prosch is among those with a chance to receive the call.
WR Sammie Coates: Coates is too young to be chosen in the 2014 draft, but he's one to watch for the future, perhaps as early as 2015. The true sophomore was the Tigers' top receiving threat, piling up 831 yards and a 22-yard average despite playing in an offense that relied on the pass less than any other team in the SEC. Coates (6-2, 201) is an explosive downfield threat and can catch the ball in traffic.
Take a look at the cheerleaders of college football in action during the 2013 season.
But no one -- well, no one outside of FSU coaches and players -- knew how good redshirt freshman quarterback Jameis Winston would be, and his fabulous play has the Seminoles in the BCS national championship game. FSU also played in the first BCS title game (the Seminoles lost that one).
Despite the massive personnel loss from last season, there still was a solid core group of talented players remaining. When FSU added Winston, the result was an offensive juggernaut that has averaged 529.4 yards and a nation's-high 53.0 points per game.
Winston, who became the second consecutive redshirt freshman to win the Heisman, has thrown for 3,280 yards, a school single-season record 38 touchdowns and 10 interceptions. He also has rushed for four touchdowns.
FSU's smallest margin of victory has been 14 points, and every other game has been decided by at least 27 points. The fewest points the Seminoles have scored in a game is 37 against Florida, and they have reached 62 points three times and at least 48 nine times in their 13 games.
While the defense has been overshadowed by the offense's exploits, it also has been excellent. Only one opponent -- Boston College, with 34 -- has scored more than 17 points, just two scored more than 14 and seven scored seven or fewer points. FSU is tied for the national lead with 25 interceptions, and most important considering that Auburn leads the nation in rushing offense (335.7 yards per game), the Seminoles have held six foes to fewer than 100 rushing yards and nine to fewer than 125. In addition, FSU has allowed a nation-low five rushing TDs (Auburn has 46, and has had three games with at least five).
While Winston makes the team go, he has a lot of talented teammates.
Florida State's top NFL prospects:
FB Chad Abram: He began his career as a safety, then moved to fullback as a sophomore in 2011. He didn't see much time on offense until this season. He has carried six times and also caught eight passes, including two for short TDs. But make no mistake: When Abram (6-0, 229) plays, he is expected to block. His blocking and special teams ability make him a possible seventh-round pick.
WR Kelvin Benjamin: Benjamin (6-5, 234), who has been clocked as fast as 4.52 seconds in the 40-yard dash, is a third-year sophomore who was a consensus national top-100 prospect in the 2011 recruiting class out of Belle Glade (Fla.) Glades Central. He redshirted as a freshman, then made 30 catches last season. But his focus and work ethic were criticized by coaches. He seemingly has put it all together this season; he heads into the national title game with 50 receptions for 957 yards and a team-high 14 TD receptions (tied for fifth nationally). He has been especially good down the stretch, with 25 receptions and nine TDs in the past five games. Duke coach David Cutcliffe called him "a monster," and that was before he caught five passes for 119 yards and two TDs against the Blue Devils in the ACC title game. Benjamin's size/speed combo is lethal, but he still has concentration lapses: He will catch a seemingly uncatchable ball, then drop one right in his hands with no one around. Despite that lack of consistency, his upside is enormous, and he might have the highest ceiling of anyone on the team not named Jameis Winston. He turns 23 on Feb. 5.
SS Terrence Brooks: He will be an important part of FSU's run defense as the Seminoles try to stymie Auburn's powerful ground game. After serving as a backup corner and special-teams player in his first two seasons, he has been a starter each of the past two seasons; he strictly was a free safety in 2012 and started five games at free safety and eight at strong safety this season. Brooks (5-11, 200) is fast and physical and covers a lot of ground; his versatility and aggressiveness against the run are big selling points. He should test well in pre-draft workouts and could go as high as the second or third round.
DE Mario Edwards Jr.: He was a top-five prospect nationally out of high school in the Dallas area and saw time last season as a true freshman, including a start in the ACC championship game; he started 10 games this season. Edwards (6-3, 277) lacks ideal size, but he is an excellent athlete with a quick first step; he also has held up well against the run. He had 2.5 sacks and two fumble recoveries this season. Keeping his weight down is important, as coaches think he is most effective at around 280 pounds; he has lost 30 pounds since arriving in Tallahassee. His dad played cornerback at FSU (in the 1990s) and in the NFL (2000-04), and now is FSU's director of player development.
OT Cameron Erving: He redshirted as a true freshman in 2010, then served as a backup defensive tackle in 2011. A shortage of offensive linemen led to a move to the other side of the ball during spring practice in 2012, and he was a revelation at left tackle that season. His footwork for a first-time tackle in 2012 was impressive. Erving, a junior, continued to improve this fall. Erving (6-6, 320) should be able to add 10-15 pounds with no adverse impact on his athleticism. He still is learning how to play the position, but he has a huge upside.
Underclassmen for 2014 draft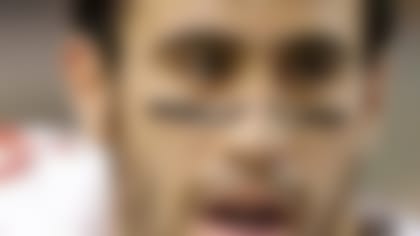 Take a look at the list of players who have announced their intentions to apply for early entry into the 2014 NFL Draft, including Texas Tech tight end Jace Amaro. **More ...**
RB Devonta Freeman: He led the team in rushing with 579 yards as a true freshman in 2011, was second last season with 660 yards and leads again this season -- all the while sharing carries at the position. Freeman is the quickest of FSU's backs, and while he lacks elite speed, the squatty Freeman (5-9, 203) usually can turn the corner; he also has shown a nice stop-start ability in traffic. He became a better receiver this fall, and one selling point for the next level is that because he has shared carries, he has a lot of tread left on his tires. The flipside: He has had at least 15 carries in a game just eight times in his career, so it's unknown whether he can handle a heavy workload.
WR Rashad Greene: Greene, a true junior, is underrated nationally. He led the Seminoles in receptions (67) and receiving yardage (971) this season -- a season after leading the 'Noles in every receiving category. Greene (6-0, 180) has 22 TD catches in his career, and his speed, elusiveness and fluidity make him a big-play threat. Greene also was a dangerous punt returner last season, taking two back for TDs, but he wasn't used in that role this season. He could stand to bulk up a bit, and his ability to beat press coverage consistently is a concern.
G Tre Jackson: He first gained notice by starting and playing well as a true freshman against Notre Dame in the Champs Sports Bowl in 2011; he barely played that season until the bowl game. He has started all but one game since. Jackson (6-4, 330) is a physical run blocker who also has the quickness to get to linebackers and defensive backs at the second level. He still needs a bit more consistency as a pass protector.
DT Timmy Jernigan: He is a former five-star recruit who had started just twice -- but still was productive -- in his first two seasons. But he has started every game this season. Jernigan (6-2, 296) is a squatty guy who has good footwork and excellent quickness. He's both quick and strong, and moves extremely well laterally. He is fourth on the team with 54 tackles and also has 10.5 tackles for loss and 4.5 sacks. His work on the interior is going to be vital as FSU looks to slow Auburn's powerful rushing attack.
LB Christian Jones: He never redshirted and was a three-year starter. After starting for two years on the outside, he was moved to the middle by new defensive coordinator Jeremy Pruitt during spring drills; he started the first two games in the middle this fall before moving back outside, where he seems most comfortable. Still, he was less productive this season than last. He led FSU with 95 tackles in 2012, when he had three games with double-digit stops, but he had just 49 stops this season, with a game-high of eight. Jones (6-4, 235) is extremely athletic, and while he was highly hyped as a pass rusher coming out of high school, he actually has been better as a run-stopper. His coverage ability needs to improve. Where he fits best on the next level is an interesting question. He definitely has a high upside and could go as early as the second round.
CB Lamarcus Joyner: He has played in every game at FSU since arriving in 2010 as one of the nation's top 20 prep prospects. Joyner was a backup corner that season, then started at strong safety in each of the past two seasons before moving back to corner this fall. Joyner (5-8, 190) lacks ideal size, but he is tough, instinctive, both fast and quick and a big-time hitter. He has eight picks and 15 pass breakups in his career. Joyner is good in run support because of his physical nature, and he also spent a lot of time as FSU's nickelback this fall. His ability to handle bigger wide receivers will be a concern at the next level. But his lack of size really is the only knock against him. He should go in the second or third round.
G Josue Matias: As with running mate Tre Jackson, he first gained national notice by starting against Notre Dame in the Champs Sports Bowl in 2011 as a true freshman. And, like Jackson, he has been a full-time starter the past two seasons. Matias (6-6, 322), who played tackle in high school in New Jersey, is especially proficient as a run blocker. He missed his senior season in high school with a leg injury.
TE Nick O'Leary: He was one of the nation's top high school tight ends in 2010 and has 66 receptions in his three seasons with the Seminoles, including 33 this fall (for 557 yards and seven TDs). O'Leary (6-3, 248) lacks ideal size, but he has added 10 pounds in the past year and is a willing blocker; his receiving ability is his best trait, though, and he has been used as a slot receiver on occasion. He's not overly fast, but he is athletic, instinctive, has good hands and can get deep on occasion. He also seems extremely likely to return for his senior season. And here is the obligatory line about O'Leary: He is Jack Nicklaus' grandson.
OLB Telvin Smith: He was a productive backup in each of his first three seasons and was a first-time starter this fall. Smith (6-3, 218) was moved from the middle to outside linebacker during spring drills, and he ended up leading the Seminoles with 79 tackles; he also had 9.5 tackles for loss, three interceptions and four pass breakups. He was third on the team with 64 tackles in 2012, and he has 30 tackles for loss and 10 pass breakups in his career. He could use some added weight and bulk, and that hurts at times against the run. But his quickness makes him a guy who can flow sideline to sideline and it also helps him in coverage, making him a three-down linebacker in the NFL. He's another Seminole who will test well in pre-draft workouts and should end up in the second or third round.
LB Terrance Smith: Smith is a third-year sophomore. He's a rangy guy (6-4, 215) who looks more like an outside 'backer but starts in the middle for the Seminoles. He runs well and is athletic, and Smith is third on the team with 55 tackles. He was considered a potential big-time pass rusher out of high school in Atlanta but moved to middle linebacker this season and has a big upside.
C Bryan Stork: He was a run-blocking tight end in high school but was moved inside as soon as he arrived at FSU. After redshirting as a true freshman, Stork (6-4, 300) played guard in his first two seasons (including starting in 2011) before moving to center in 2012. He has thrived at the position and won the Rimington Award -- which goes to the nation's best center -- this season. He is athletic and a good technician, but he is more of a finesse guy than a road-grader. He should be one of the first three or four centers drafted.
RB James Wilder Jr.: Wilder was one of the nation's biggest recruits in 2011; some schools liked him as a linebacker, others (including FSU) envisioned him as a big, bruising tailback. While there's no denying his physical talent, he hasn't lived up to the recruiting billing. He has run for 1,337 yards and 20 TDs in his first three seasons; he is FSU's third-leading rusher this fall, with 542 yards. Wilder (6-2, 229) is a tough, physical runner with OK speed, but he's not a shifty guy; instead, he runs over people. Wilder looked to have developed into a competent receiver last season, but he had just three receptions this fall. His blocking must improve. In addition, he never has had to deal with a heavy workload; in 38 career games, he has carried the ball at least 15 times just once and has only eight games with double-digit carries. Wilder also has had off-field issues and was arrested three times for minor offenses between February 2012 and January 2013. His dad is a former NFL running back.
RB Karlos Williams: He was a consensus national top-10 prospect out of high school near Orlando at safety. After serving as a reserve in his first two seasons, he was expected to start at strong safety this fall. But he lost his job in summer camp to converted cornerback Tyler Hunter, who ended up missing most of the season with a neck injury. Williams (6-1, 223) struggled in coverage and lacked top-flight instincts, and was moved to tailback early in the season. He played well, finishing second on the team with 705 rushing yards. He has excellent speed for a guy his size, but his lack of experience at tailback leads most to believe he will return for his senior season. His brother, Vince, is a former FSU linebacker who was a sixth-round pick of the Pittsburgh Steelers in the 2013 draft.
QB Jameis Winston: He replaced first-round pick EJ Manuel as the Seminoles' starter and has been transcendent. Winston (6-4, 228), who has gained about 35 pounds since signing with FSU, has a strong arm and excellent mobility. Expectations were through the roof for him after a strong spring performance -- and he actually exceeded them. He has all the tools to be a long-term franchise quarterback in the NFL, but NFL franchises will have to wait at least one more season on Winston.