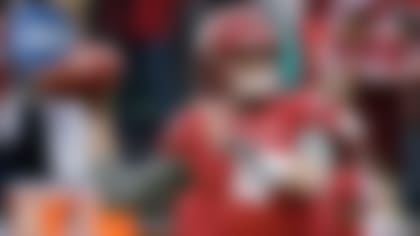 Editor's note: NFL.com analyst and former NFL scout Daniel Jeremiah takes a "first look" at college football's top players for 2017. This is the seventh in a series of scouting reports that will run throughout the offseason.
If Luke Falk had entered the 2017 NFL Draft, I believe he would've been selected at some point in the first two rounds. He elected to return to Washington State for his senior campaign, though, and I believe he made the right decision. There's plenty to love about his game, but I thought an extra year at the collegiate level would increase his chances of having a long, successful NFL career. Here's my scouting report for the Cougars QB.
Click through tabs above to see other scouting reports.
Luke Falk, senior quarterback, Washington State
Height, weight: 6-foot-4, 225 pounds (school measurements)
2016 statistics: 443-of-633 (70 percent) for 4,468 yards, 38 TDs, 11 INTs.
Game tape watched: Boise State (Sept. 10, 2016), Idaho (Sept. 17, 2016), Minnesota (Dec. 27, 2016).
What I liked: Falk operates with excellent poise. He never looks flustered and he shows a complete command of coach Mike Leach's offensive system. While much will be mentioned about the lack of production for some of the top QBs in the country, Falk doesn't have that issue. His career stats are eye-popping.
Falk operates in the shotgun and he is quick to scan and throw with anticipation. Although he plays in an Air Raid offense, he does read the entire field. He has a very quiet lower body (calm, firm base) and a smooth release. He has tremendous touch at all three levels. Leach gives him a lot of responsibility in the offense and he has handled it extremely well.
Where he needs to improve: Falk doesn't possess a huge arm. It hasn't been a big issue for Falk because he is so adept at throwing with anticipation. However, he does need to add some RPMs to his throws and it has been reported that he's added weight/strength during the offseason. He's a functional athlete, capable of avoiding the free rusher, but he isn't much of a threat as a ball carrier. Fair or unfair, he will have to answer questions about the lack of success Air Raid QBs have had at the next level. I think he'll be given more responsibility to make calls at the line of scrimmage this season and that should ease some of those concerns.
Biggest takeaway: Falk was smart to return to school for his senior season. I doubt he would've started as an NFL rookie this fall, and he's guaranteed to get thousands of reps (practices/games) at Washington State. I've had a chance to visit with him and I came away very impressed. He reminds me a lot of Kirk Cousins. Both guys played a lot of football in college (4-year players) and helped elevate their programs. They are also both very mature and respected by coaches and teammates. If Falk can add a little strength, I think he's going to be a long-term starter at the next level.
I can't wait to see him play ... Stanford on Nov. 4. I know most college football fans will point to the Apple Cup matchup (Nov. 25 at Washington) as must-see TV, but I'm looking forward to this rematch. Falk torched the Cardinal on the road last fall, throwing for 357 yards and 4 TDs. If he can somehow come close to duplicating those numbers and knock off Stanford for the second straight season, it would send quite a message to NFL evaluators.