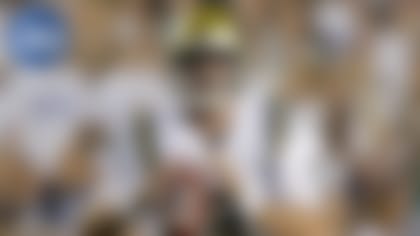 Editor's note: NFL.com analyst and former NFL scout Daniel Jeremiah takes a "first look" at college football's top players for 2017. This is the fifth in a series of scouting reports that will run throughout the offseason.
I'm a few weeks into my First Look series and I've already revealed my scouting reports on two of the top QBs in the country, Wyoming's Josh Allen and USC's Sam Darnold. Well, there are more than two big-time signal-callers in college football. In fact, prior to last fall the QB everyone was gushing about wasn't Allen or Darnold -- it was UCLA's Josh Rosen. He didn't quite have the year we all expected, but it wasn't all his fault. I'll explain below. Here's my scouting report on the Bruins quarterback.
Click through tabs above to see other scouting reports.
Josh Rosen, junior quarterback, UCLA
Height, weight: 6-foot-4, 220 pounds (school measurements)
2016 statistics (missed 6 of 12 games due to injury): 137-of-231 (59 percent) for 1,915 yards, 10 TDs, 5 INTs.
Game tape watched: Texas A&M (Sept. 3, 2016), Arizona (Oct. 1, 2016), USC (Nov. 28, 2015), every pass attempt on third down with 6 or more yards to go from 2015 and 2016 seasons.
What I liked: Rosen is a fun player to watch on tape. He has the purest throwing motion I've seen in a long time. He is silky smooth and has a very quick release. His footwork is crisp when he's under center and he throws with a very firm base. He has touch underneath and the velocity to fit balls into tight spaces down the field.
Rosen flashes the ability to manipulate safeties, reset his feet and deliver accurate throws down the seam. He isn't a dynamic athlete, but he has some escapability and will use his legs to pick up first downs when the opportunities are presented.
Where he needs to improve: Rosen does some good things when he's under duress, but he also has a tendency to get careless with the football. He'll force balls into coverage or throw blindly at times. He wasn't afforded the luxury of good offensive line play or a healthy rushing attack in 2016, and he tried to do too much on his own. Rosen needs to learn to throw the ball away and protect the possession as well as his own body. He missed the majority of the 2016 campaign (shoulder injury), but he still took a season's worth of hits.
I see a lot of criticism about his low completion percentage, but he's been plagued by a lot of drops and a very average supporting cast. I did have some concerns about the health of his injured shoulder, but my Move The Sticks Podcast partner Bucky Brooks recently watched Rosen throw live and gave me a glowing report.
Biggest takeaway: When I watched the tape from Rosen's freshman season, I was reminded why there was so much buzz about him a year ago. He is a graceful passer when he has some protection and a place to throw the football. He has the size, arm strength and intelligence to be a franchise quarterback in the NFL.
His sophomore season was disappointing, but there were still glimpses of his great potential (see scramble TD throw vs Arizona). He might be the polar opposite of Eli Manning when it comes to personality, but I do see some similarities in their playing style. Both of them are streaky passers capable of playing at a high level. They can throw with touch and timing while also possessing enough arm strength to fit balls into tight windows in the middle of the field. If Rosen can stay healthy, I have no doubt he will reemerge as one of the premier players in the country.
I can't wait to see him play ... vs. Texas A&M on Sept. 3. Rosen was beaten up in last year's meeting against the Aggies, but he competed his butt off in that overtime loss. He'll have a chance to avenge that defeat when the Bruins host A&M at the Rose Bowl this fall. Fortunately for Rosen, Myles Garrett won't be making the trip to the West Coast this time.