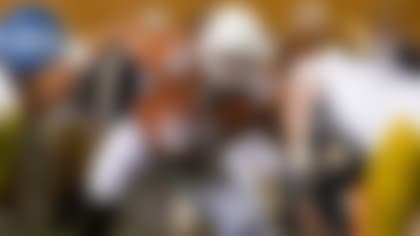 Editor's note: NFL.com analyst and former NFL scout Daniel Jeremiah takes a "first look" at college football's top players for 2017. This is the eighth in a series of scouting reports that will run throughout the offseason.
College football is loaded with talented quarterbacks, many of whom I've already studied and written about this summer. However, there is plenty of talent at other positions, including the offensive line. Texas offensive tackle Connor Williams is arguably the best of the bunch. I've listened to my colleague Lance Zierlein rave about Williams for more than a year. I finally had a chance to dig in and study the talented Longhorn. Here's my scouting report.
Click through tabs above to see other scouting reports.
Connor Williams, junior offensive tackle, Texas
Height, weight: 6-foot-6, 320 pounds (school measurements)
Game tape watched: Notre Dame (Sept. 4, 2016), Oklahoma State (Oct. 1, 2016), Oklahoma (Oct. 8, 2016).
What I liked: Williams is an exceptionally talented player in both the run and passing game. As a run blocker, he takes good angles, rolls his hips on contact and shows a nasty demeanor to keep moving opponents both to and through the whistle. When you have a mauling run blocker, that player often lacks some athleticism as a pass protector. That's not the case with Williams. He's a graceful mover with tremendous knee bend, balance and the ability to redirect. He plays with great awareness and can sink his weight to anchor down vs. the bull rush. He has a very sharp punch and makes it look easy once he gets position.
Where he needs to improve: He can get a little too aggressive at times in the run game. He'll duck his head and fall off of his block. This doesn't happen very often, but it's an area he can clean up this fall. Williams doesn't appear to have ideal length and he'll need to be a little quicker with his punch when he plays elite edge defenders. I'm anxious to see how long his arms measure. On occasion, longer edge rushers get their hands inside and lock him out. Overall, there aren't a lot of holes in his game.
Biggest takeaway: Williams is an easy player to evaluate on tape. Great players make the difficult tasks look effortless on the football field. That's him. He's a better player than any of the offensive tackles in the 2017 draft class. He reminds me a lot of Joe Staley coming out of college. Both guys are natural athletes and play with a physical edge.
I can't wait to see him play ... at USC on Sept. 16. I love it when the elite programs in college football square off. These two teams haven't met since that epic Rose Bowl battle that featured Vince Young and Matt Leinart. USC has a pair of talented edge rushers (Uchenna Nwosu and Porter Gustin) and I plan to attend the game to see how Williams handles that challenge.