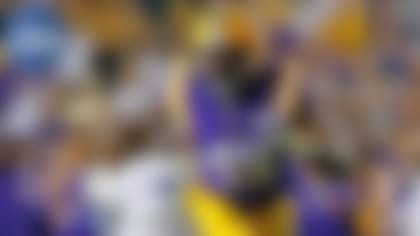 Editor's note: NFL.com analyst and former NFL scout Daniel Jeremiah takes a "first look" at college football's top players for 2017. This is the fourth in a series of scouting reports that will run throughout the offseason.
LSU has produced a ton of defensive talent over the last decade, but most of it played at the second or third level (linebackers/secondary). However, this year the focus will be on the defensive front, where they possess one of the most dominant edge players in college football -- Arden Key. I recently had a chance to study his 2016 tape. Here's my scouting report.
Click through tabs above to see other scouting reports.
Arden Key, junior linebacker, LSU
Height, weight: 6-foot-6, 238 pounds (school measurements)
2016 statistics: 56 tackles (14.5 for loss, including 12 sacks), 3 forced fumbles, 3 passes defensed.
Game tape watched: Wisconsin (Sept. 3, 2016), Alabama (Nov. 5, 2016), Louisville (Dec. 31, 2016).
What I liked: Key has the ideal build for an edge rusher. He's 6-foot-6 and has exceptionally long arms. He uses his length to keep opponents off of his chest and has an array of moves to create pressures/sacks. Key flashes an explosive get off and can bend the loop at the top of his rush. His effort is solid -- he plays snap to whistle. Watch the bowl game against Louisville to gain a full appreciation for his pass-rush talent. He wins in a variety of ways.
As a run defender, he uses his length to stack and hold the point of attack. He has the speed/effort to make plays from the backside. His production has been outstanding.
Where he needs to improve: There are some instances where Key struggles to find the ball and he will be influenced by play fakes. I'd also like to see him get off of blocks and be more active as a front-side run defender. At times he's content to sit and hold the point instead of freeing himself to make the play. He stepped away from the program during the spring and that will be something scouts look into during the evaluation process.
Biggest takeaway: Key isn't a perfect player, but he has all of the tools to dominate as a pass rusher. Teams account for him with extra blockers, but he still finds a way to generate pressure. While a former NFL DE recently said Key is even better than 2017 No. 1 overall pick Myles Garrett, I'm not ready to make that declaration. Key is a more instinctive pass rusher, but he's not as explosive as Garrett. Key has some similarities to Pro Football Hall of Famer Jason Taylor. They have a similar frame/length and they both have great instincts as pass rushers.
I can't wait to see him play ... BYU in the opener on Sept. 2. LSU has opponents with a higher profile, but this will be the first opportunity to see Key's new build in game action. He wrote in a tweet this spring that he had bulked up to 255 pounds (listed at 238 by LSU) and I'm anxious to see if he maintains his burst/explosiveness.