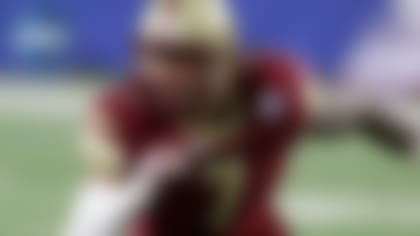 Editor's note: NFL.com analyst and former NFL scout Daniel Jeremiah takes a "first look" at college football's top players for 2017. This is the 10th in a series of scouting reports that will run throughout the offseason.
While studying other prospects for the draft last spring, I had the opportunity to take a quick look at Boston College DE Harold Landry. I came away very impressed. Over the last week, I've dug in and studied his tape. I was even more impressed. Here's my scouting report for the talented edge rusher.
Click through tabs above to see other scouting reports.
Harold Landry, senior defensive end, Boston College
Height, weight: 6-foot-3, 250 pounds (school measurements)
2016 statistics: 51 tackles (34 solo), 22 for loss (16.5 sacks), 1 INT, 4 pass breakups, 7 forced fumbles.
Game tape watched: Clemson (Oct. 7, 2016), Florida State (Nov. 11, 2016), Maryland (Dec. 26, 2016)
What I liked: Landry is a natural pass rusher. He has an explosive first step and can really bend at the top of his pass rush. He's very loose and fluid, which allows him to flatten to the quarterback once he turns the corner. He also has an explosive up-and-under move to create pressure. His ability to finish is special. He can adjust his path as the result of quarterback movement in the pocket, and he's always attempting to swipe the ball away on contact.
Landry is a dynamic backside run defender. He closed the back door several times against Dalvin Cook in the FSU game last season. He gives great effort to chase plays from behind. He flashes the ability to hold the point of attack on the front side. His instincts are outstanding (see INT vs. Maryland in bowl game). He plays defensive end in this scheme, but he's plenty capable of standing up and playing outside linebacker at the next level.
Where he needs to improve: I'd like to see a little more power from Landry as a pass rusher. He usually wins with speed or hand moves. He rarely converts speed to power. If he can improve in that area, it would take his game to a new level. He also will get swallowed at times when he's a front side run defender. He's shown the ability to lock out and set the edge, but he needs to be a little more consistent.
Biggest takeaway: Landry is the top pass rusher I've studied so far this summer. Arden Key has a more prototypical frame, but Landry bends much better and is more consistently disruptive. He racked up 16.5 sacks last fall despite facing a great deal of double teams from opposing offenses. He reminds me a lot of Vic Beasley coming out of Clemson. Both guys are special athletes with top-notch production and upside. I also see a little of Dee Ford in his play. I was surprised Landry elected to return to Boston College for his senior season, and I'll be even more surprised if he's not a top-10 pick in the spring.
I can't wait to see him play ... Notre Dame on Sept. 16. The Fighting Irish return one of the best offensive lines in college football and I'm excited to see how Landry performs in this contest. If he plays well against Mike McGlinchey (highly regarded ND OT), it will cement his status as an elite edge prospect for the 2018 NFL Draft.