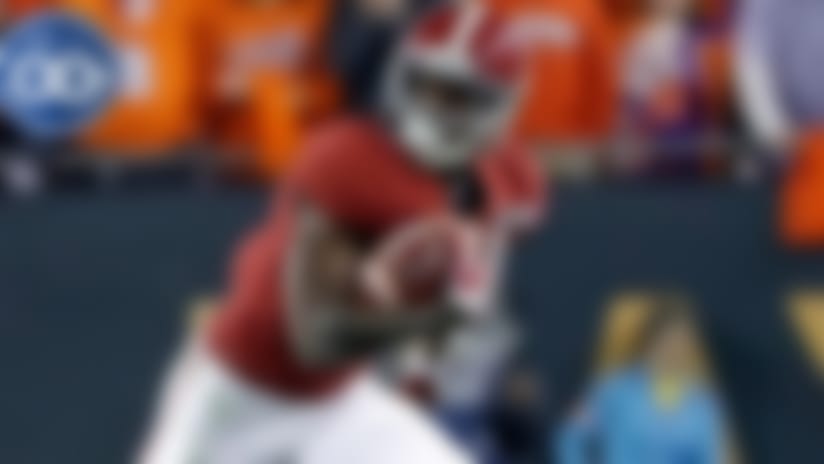 Editor's note: NFL.com analyst and former NFL scout Daniel Jeremiah takes a "first look" at college football's top players for 2017. This is the 15th and final entry in a series of scouting reports that have run throughout the offseason.
Alabama has been a football factory for a long time. They have so much talent on a yearly basis that it seems a few of their studs find a way to fly under the radar. Calvin Ridley is one of those guys. He's a special talent, but he was underutilized last fall and therefore hasn't generated a lot of offseason buzz heading into the 2017 campaign. I believe he's ready for a monster junior campaign. Here's my scouting report.
Click through tabs above to see other scouting reports.
Calvin Ridley, junior wide receiver, Alabama
Height, weight: 6-foot-1, 190 pounds (school measurements)
2016 statistics: 72 catches for 769 yards (10.7 average), 7 TDs.
Game tape watched: USC (Sept. 3, 2016), Kentucky (Oct. 1, 2016), Auburn (Nov. 26, 2016), Washington (watched live, Dec. 31, 2016)
What I liked: Ridley is a smooth and explosive athlete. It's hard to find players with that combination. He's not limited by any stiffness and he shows the ability to quickly get in and out of the break point without drastically gearing down. He has elite over-the-top speed and tracks the ball naturally. After the catch, he's competitive to fight for extra yards. If Ridley gets some space, he's a threat to score from anywhere on the field. He has the ability to play inside or outside at the next level.
Where he needs to improve: First of all, he needs more opportunities. Ridley was underutilized last fall, especially down the field. He has the skill set to run every route on the route tree, and hopefully the new offensive coordinator, Brian Daboll (a veteran NFL assistant who last worked with the Patriots), will find more creative ways to put the ball in his hands. The one area he needs to really work on -- getting off press coverage. There are times where he gets hung up at the line of scrimmage and aggressively re-routed by opposing cornerbacks. He has the quickness to get away from most players at the college level, but he needs to improve his ability to win the hand fight at the line scrimmage.
Biggest takeaway: Ridley has tremendous upside. I think he's the perfect complementary receiver, majoring in explosive/down-the-field catches. Alabama played with a true freshman quarterback (Jalen Hurts) last fall and he was a little reluctant to force the ball down the field. I think that will change this fall and Ridley will get a chance to show off what he does best. He reminds me a lot of the Vikings' Stefon Diggs coming out of college. We've seen flashes of Diggs' playmaking skills during his brief career and I believe Ridley has a similar skill set.
I can't wait to see him play ... Florida State on Sept. 2. I've mentioned this game quite a bit during the offseason. It's rare to see this type of matchup right at the start of the season. There will be future pros all over the field and Ridley could make a powerful statement if can put up big numbers against a very talented FSU secondary that includes safety Derwin James and cornerback Tarvarus McFadden.