Cedric Ogbuehi has seen all he needs to see to know his move from guard to tackle on the Texas A&M offensive line might one day pay off for him.
Debate: Manziel's off-field antics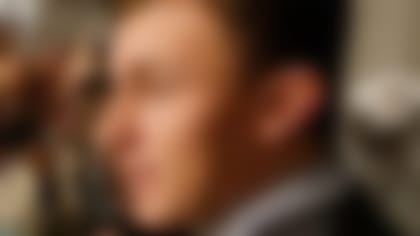 The Aggies' loss of left tackle Luke Joeckel as the No. 2 overall choice in the 2013 NFL Draft to the Jacksonville Jaguars made it necessary for TAMU to slide standout right tackle Jake Matthews to Joeckel's spot on the left side. But while Matthews will protect the blind side of star quarterback Johnny Manziel, Ogbuehi, previously a guard, has been chosen to fill in for Matthews at right tackle.
Matthews is among the top pro prospects in the college game, as projected by NFL.com's Daniel Jeremiah, and a strong season on the left side -- where the really big money for offensive tackles is made -- will only enhance his draft status. Ogbuehi, as Jeremiah points out, has an NFL future himself.
But if Ogbuehi wants a chance to prove himself on the left side, as Joeckel did and Matthews should, he'll need to stay in school for his senior year to slide over to left tackle himself.
"If I play good, the money will come," Ogbuehi said. "So I just got to play good to get the money."