A look at the 10 of the top rushing performances in college football Saturday.
Key stats: Jack scored four touchdowns, carrying 13 times for 59 yards, for the Bruins in a 41-31 win over Washington.
The buzz: The LB/RB scored from 8, 1, 1 and 2 yards out to generate more debate about which side of the ball this athletic freshman should be playing on.
Week 12: Things we learned From Auburn's miraculous victory over Georgia to Jordan Matthews' continued assault on SEC defenses, here are the lessons we learned in Week 12 of college football. More ...
9. Ka'Deem Carey, Arizona
Key stats: Carey rushed for 132 yards on 26 carries with a touchdown, and added six catches for another 45 yards and a touchdown reception in a 24-17 loss to Washington State.
The buzz: One of the most talented rushers in the Pac-12 delivered a big effort, albeit in a losing effort. Carey's lowest rushing total of the year has been 119 yards.
Key stats: Sims rushed for 211 yards on 22 carries with three touchdowns in a 31-19 win over West Virginia.
The buzz: Sims averaged 9.6 yards per carry in what was by far his most productive game of the season. Sims also put a 100-yard game on the Oklahoma defense earlier this year.
Week 12: Top WR performances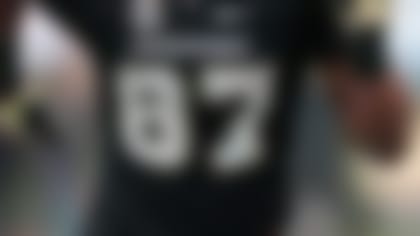 Vanderbilt's Jordan Matthews made school history with another huge performance, but a miraculous touchdown catch headlined our top WR performances of Week 12. More ...
7. Jeremy Langford, Michigan State
Key stats: Carried 32 times for 151 yards and three touchdowns in a win over Nebraska.
The buzz: Langford continued an impressive hot streak with his fifth consecutive game of 100 yards or more. Saturday, however, represented season highs for Langford in carries, yardage and touchdowns.
6. Melvin Gordon, Wisconsin
Key stats: Gordon ran for 146 yards on just 13 carries for an 11.2-yard average.
The buzz: The other star in the Badgers' backfield wasn't going to let James White have all the fun against the Indiana defense. Gordon is averaging a whopping 8.1 yards per carry for the year.
5. Carlos Hyde, Ohio State
Key stats: The Buckeyes' star rumbled for five touchdowns (four rushing, one receiving) in a 60-35 win over Illinois, and a season high 246 yards on 24 carries.
The buzz: The powerful senior ripped off his fifth consecutive 100-yard rushing performance, and his first 200-yard game of the season.
4. James White, Wisconsin
Key stats: Carried 20 times for 205 yards, a 10.3-yard average, in a 51-3 trouncing of Indiana.
The buzz: White opened the scoring with a 93-yard touchdown run barely a minute into the game. It was White's seventh 100-yard game of the year, but his first 200-yard game.
3. Kapri Bibbs, Colorado State
Key stats:The CSU star rushed for 291 yards on 38 carries with six touchdowns in a 66-42 win over New Mexico.*
*
The buzz:The performance gave Bibbs more than 600 yards and 10 touchdowns in his last two games alone. He's posted three 200-yard games on the season.*
*
2. Andre Williams, Boston College
Key stats: Williams ran for 339 yards and two touchdowns on 42 carries for BC in a 38-21 win over N.C. State.
The buzz: Williams has been on an incredible hot streak, with 800 yards rushing over his last three games, and 972 in his last four.
1. Cartel Brooks, Heidelberg University
Key stats: Ran for an NCAA-record 465 yards, on 38 carries, for the Division III school. He scored three touchdowns.
The buzz: You may never have heard of him, but the highest rushing total in college football history has to top this list. The record of 455 yards was just three weeks old, set by Octavias McKoy of Western Connecticut.