A look at the top performances from Championship Saturday:
Week 15: Things we learned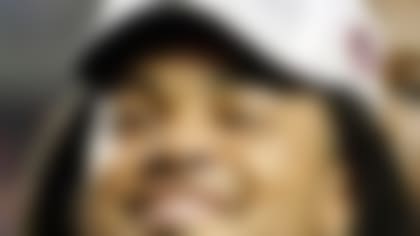 From Auburn RB Tre Mason's record day in the SEC championship game to Blake Bortles' rising draft stock, here are the lessons we learned in Week 15 of college football. More ...
10. Dorial Green-Beckham, Missouri, WR
The key stats: Had 144 receiving yards and two touchdowns in a loss to Auburn.
The buzz: Despite missing part of the first half with a shoulder injury, the sensational sophomore still had his way with the Auburn secondary to set a career-high in receiving yards. At 6-foot-6 and 225 pounds, Green-Beckham is likely to enter next season as an All-American and is a strong candidate to be the first wide receiver off the board in the 2015 NFL Draft.
9. Jordan Taylor, Rice, WR
The key stats: Had 131 yards and one touchdown to win the Conference USA championship.
The buzz: The Owls won their first outright conference championship since 1957 with a 41-24 win over Marshall in the C-USA title game. Taylor caught a 75-yard touchdown for a 14-0 lead midway through the first quarter. It was Taylor's second game with 100 receiving yards this season; he had a seven catch, 68-yard outing with a touchdown in the season-opener at Texas A&M.
8. Shepard Little, Eastern Illinois, RB
The key stats: Rushed for 184 yards and two touchdowns in a win over Tennessee State.
The buzz:Panthers quarterback Jimmy Garoppolo gets the publicity at Tony Romo's alma mater, but Little is up to 1,493 yards and 15 touchdowns this season. Eastern Illinois won its first FCS playoff game since 1989 with the 51-10 triumph over the Tigers and will now play seventh-seed Towson.
7. Jalen Saunders, Oklahoma, WR
The key stats: Caught game-winning touchdown with 19 seconds remaining against rival Oklahoma State.
The buzz: Saunders denied the Cowboys the Big 12 title and a berth in the Fiesta Bowl when he caught a 7-yard score coming across the back of the end zone. Saunders is undersized (5-9, 157) but came through with 157 all-purpose yards, including a 64-yard punt return for a touchdown that put the Sooners on the board.
6. Casey Cochran, Connecticut, QB
The key stats: Threw for 461 yards, four touchdowns and no interceptions in a win over Memphis.
The buzz:Cochran (6-1, 226) led the Huskies to their third consecutive win to close out the season. The redshirt freshman threw for 883 yards and seven touchdowns against one interception in that stretch and should be a nice piece to build around for whomever replaces Paul Pasqualoni as head coach.
5. Bryce Petty, Baylor, QB
The key stats: Threw for 287 yards and two touchdowns in a win over Texas.
The buzz: Petty led the Bears to their first-ever Big 12 championship in their final game at Floyd Casey Stadium, delivering his 10th game this season with multiple touchdown passes and no interceptions. With the Fiesta Bowl on deck, Petty has already accounted for 39 touchdowns (28 passing, 11 rushing) in his first season as the starter under head coach Art Briles.
4. Tyler Gaffney, Stanford, RB
The key stats:Rushed for 133 yards and three touchdowns in a Pac-12 championship game win at Arizona State.
The buzz:Ho hum, another bruising performance from Gaffney, who has topped 100 rushing yards in eight games this season. He could set the Stanford single-season rushing record when the Cardinal makes its fourth-consecutive appearance in a BCS bowl. Not bad, considering Gaffney was playing minor league baseball last year.
3. Darqueze Dennard, Michigan State, CB
The key stats:Broke up two passes and forced one fumble in a Big Ten championship game upset of Ohio State.
The buzz:Dennard was a critical component in limiting Buckeyes quarterback Braxton Miller to 101 passing yards by taking away wide receivers Philly Brown and Devin Smith. The Spartans are headed to the Rose Bowl for the first time since the 1997 season and will face fellow defensive powerhouse Stanford.
2. Jameis Winston, Florida State, QB
The key stats: Threw for 330 yards and three touchdowns in an ACC championship game win over Duke.
The buzz:Winston, who also rushed for 59 yards and one touchdown, locked up the Heisman Trophy and a trip to Pasadena, Calif., for the final BCS championship game with a masterful performance in a 45-0 rout of the Blue Devils. Winston set an FBS record for touchdown passes by a freshman with 38, which is also the new ACC single-season record.
The key stats: Rushed for SEC championship game-record 304 yards in a win over Missouri
The buzz: Against a stout Tigers front that hadn't allowed more than 184 rushing yards to any team this season, Mason was the main cog in Auburn's 59-42 win to complete a miraculous turnaround in its first season under head coach Gus Malzahn. Mason goes into the BCS championship game with 1,621 rushing yards and 22 touchdowns this season. After shredding Alabama and Missouri in consecutive games, Mason has made a strong push toward a possible early draft declaration.